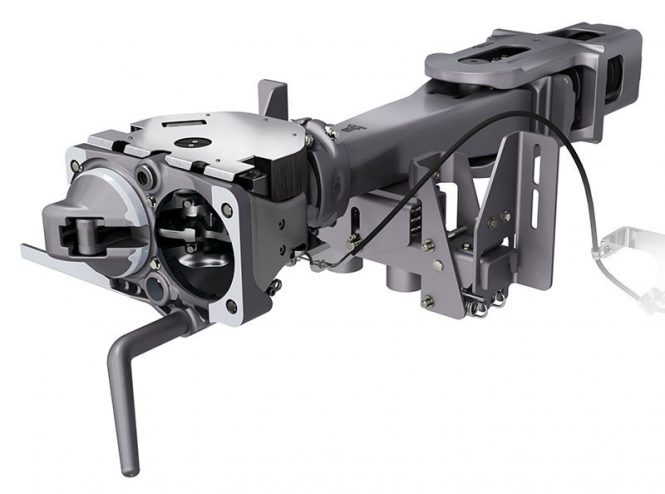 Quick, easy and safe automatic coupling of freight cars
Newly developed digital automation concept with electric head
On display at the SwissMovers stand (FGL.804/1) at transport logistic (Munich, June 4-7, 2019)
With its CargoFlex range of automatic freight couplers, Voith has risen to the challenge of bringing an end to 150 years of laborious manual coupling and uncoupling of freight cars. The coupler accommodates the high loads present in rail freight services and increases efficiency by significantly reducing the time otherwise spent on manual coupling. Visitors to this year's transport logistic (Munich, June 4-7) will be able to see the new coupler on display at the SwissMovers stand (FGL.804/1).
The latest iteration of CargoFlex features a newly developed, digitally enhanced automation concept including power transmission through electric heads. This is the next step towards further automation functionalities such as electro-pneumatic braking and telematics applications based on data transmission. All functions are being developed in close cooperation with the customer to fully grasp market requirements and current conditions.
Automatic coupling for maximized efficiency
To meet the challenge of rising transport volumes, Voith has developed the CargoFlex coupler for increased safety, efficiency and transport performance in freight service operation. Since 2017, the Voith CargoFlex Type Scharfenberg has successfully been used in an ongoing trial operation at SBB Cargo, the freight subsidiary of the Swiss Federal Railroad (SBB).
The CargoFlex comes equipped with a UIC vehicle interface. Adapted to the high loads present in rail freight service operations, it features a very light and robust design for extraordinary reliability and a long service life. This is complemented by a modular concept for need-based upgrading with existing and future modules like automatic uncoupling and data transmission.
At this year's transport logistic trade fair, Voith will present two new concepts for digitally enhanced automatic coupling in freight services – both combining its proven Type 10 CargoFlex coupler with an electric head for power transmission.