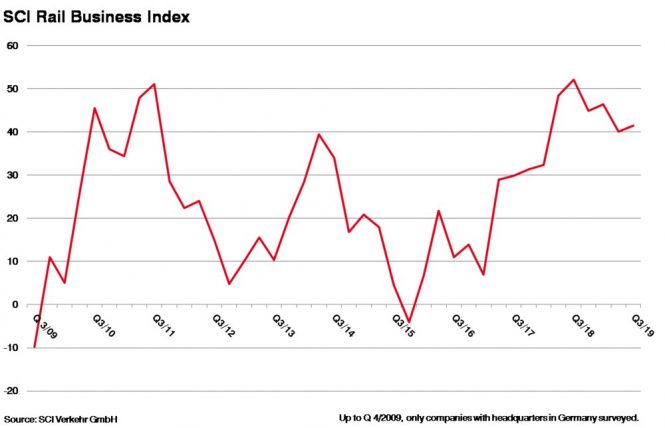 Spirit of optimism instead of crisis – the global railway industry resists the current trend and is looking forward to expected growth.
The business climate of the international railway industry remains on a high level in the third quarter and is even registering a slight increase in comparison to the second quarter. This is shown by the current SCI Rail Business Index - a regular survey of top managers in the global rail industry conducted by the consulting firm SCI Verkehr.
The deceleration of the worldwide economic growth and negative news from important European industrial branches are so far barely affecting the business climate index of the worldwide railway sector.
Despite the fact that the present economic situation and the demand for products and services have been evaluated a little less positive on average in the survey than in the past quarter, the assessment of the future business development has improved: The general political climate is spurring the positive future expectations of the climate-friendly railway sector like it has not done in a long time.
The survey has indicated a positive development regarding the expected business development in the coming six months for the second consecutive quarter. The share of interviewees that is expecting the business situation to improve has increased by 8 percentage points to 39%. In turn, only 4% of the interviewed managers are expecting a negative business development. In spite of the current slowdown of the overall economic situation and a decline of the demand for products and services, many top managers in the railway industry are optimistic about the future.