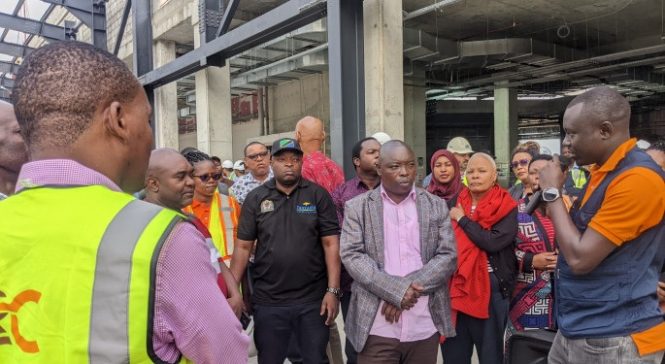 The Parliamentary Infrastructure Committee calls on the Tanzania Railways Corporation to ensure contractors complete projects as scheduled

The Tanzania Railways Corporation (TRC) has been urged by the Parliamentary Infrastructure Committee to ensure that contractors complete railway projects according to the contracted timeline. Chairman Moshi Selemani Kakoso made the statement during the committee's inspection of the modern Standard Gauge Railway (SGR) project between Dodoma and Morogoro on March 14, 2023.
The two-day inspection aimed to assess the progress of the SGR project, which forms part of the preparations for the Government's 2023/2024 budget session. Mr. Kakoso thanked President Samia Suluhu Hassan's administration for its continued funding of the project, which will significantly benefit Tanzanians when completed.
The Infrastructure Committee recommended that the Government expedite the procurement of equipment, such as locomotives, carriages, and machinery, for the SGR project. Additionally, the committee emphasized the importance of training young Tanzanians to oversee the project once it begins operating.
During their visit, committee members inspected the TRC headquarters building under construction in Kikuyu South, Dodoma, which is nearing completion. They also visited the SGR station building in Dodoma and received detailed information from experts before continuing their inspection in Morogoro.
Deputy Minister of Transport, Mr. Atupele Mwakibete, acknowledged that the COVID-19 pandemic had caused delays in the procurement of equipment for the Dar es Salaam-Morogoro SGR project. However, he reassured that the Government plans to begin operating the modern railway from Dar es Salaam to Morogoro in April 2023 once the locomotives and carriages are received.
Acting Director-General of the Tanzania Railways Corporation, Ms. Amina Lumuli, welcomed the visit from the Parliamentary Infrastructure Committee and highlighted the significant instructions received during the inspection.