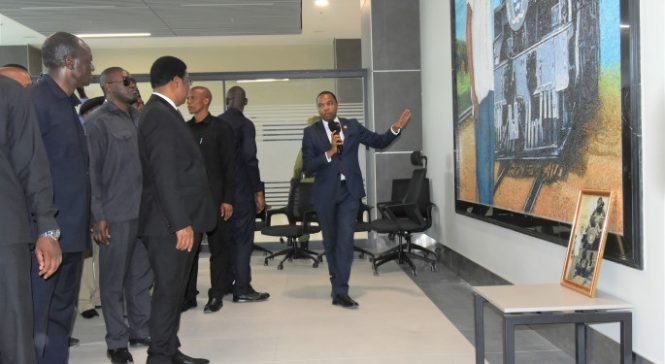 The Prime Minister of the United Republic of Tanzania Hon. Kassim Majaliwa recently visited the Modern Railway (SGR) construction project to inspect the Station building and the construction of the Bridge connecting the Station as a follow-up visit to various strategic projects underway.
The Minister of Works and Transport Hon. Dr. Leonard Chamuriho explained that the delay in the completion of the project from Dar es Salaam to Morogoro is due to the incompleteness of the KM 2.56 bridge connecting Dar es Salaam Station. By August trains will start running from the Pugu station to Morogoro.
Tanzania Railways Corporation (TRC), Director General Mr. Masanja Kadogosa reported that the first phase from Dar es Salaam to Morogoro has been completed by 91%. The Dar Es Salaam station has been completed, and currently underway is the installation of the communication system, security and landscaping.
In addition, the Director-General of TRC added that the second phase of construction of the project is completed by 57.7% and by the end of April it will be completed by 60% and by August this year the Morogoro - Makutupora piece will be connected by February 28, 2022, this section will be complete.
The Prime Minister noted that "We will continue to build this project until it is completed, we will continue with the second phase (Tabora - Kigoma) and the third phase (Tabora - Mpanda - Karema). Our President Mama Samia Suluhu Hassan has assured me that the money is there and we have planned well and calmly and peacefully."