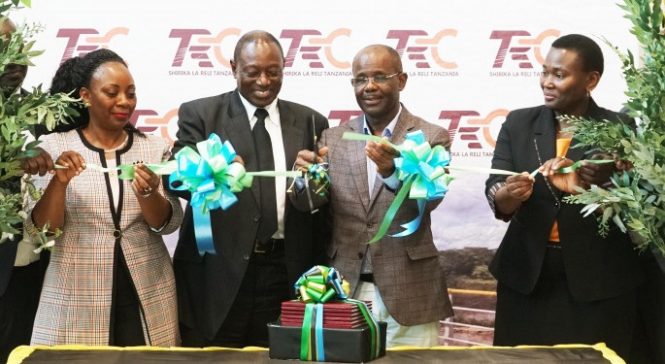 The Tanzania Railways Corporation (TRC) has held a brief ceremony for the inauguration of a new board of directors led by the guest of honour, the Minister of Transport, Hon. Prof. Makame Mbarawa. This event took place at the SGR station building in Dar es Salaam on September 11, 2023.
The newly inaugurated board includes Chairman Mr. Ally Karavina, along with board members Dr. Shaaban Ramadhani Mwijaka, Mr. Narcis Aloyce Lumumba, Mr. Masanja Kungu Kadogosa, Mr. Shaaban Ahmed Kabunga, Mr. Plasduce Mkeli Mbossa, and Mr. Redemtus Peter Bugomola.
Prof. Mbarawa commended the new TRC board of directors for their trust and appointment to oversee the Tanzania Railways Corporation, which provides rail passenger and freight transportation services. He also praised the outgoing board for their excellent management of the corporation's services and strategic projects, including the SGR and the refurbishment of the central railway section from Dar es Salaam to Isaka.
Prof. Mbarawa elaborated that the government continues to invest in the SGR project, which is progressing well in the first phase's five sections. These include various railway segments, each of varying lengths, connecting different parts of the country.
However, he also mentioned that the TRC is undergoing renovations of the central railway for the segment between Kaliua and Mpanda, bridge construction between Kilosa and Gulwe, and refurbishments in various areas from Dar es Salaam to Isaka through the TIRP 2 project.
The Acting Director-General of TRC, who is also the Director of Human Resources and Administration, Ms. Amina Lumuli, explained the constitution of the TRC board of directors as per the provisions of the Railways Corporation Act No. 10 of 2017. This act establishes a chairman and seven members from various government offices with expertise in fields like Engineering, Human Resources, Administration and Business, Law, Economics, Finance, and Transportation.
Ms. Amina informed that TRC has a total of 2,974 employees, with 2,688 being permanent staff and 286 on contract.
TRC plays a significant role in providing rail transport services to the community. In addition to operating long-distance passenger and freight trains and urban trains, the TRC continues with various construction projects, including the strategic SGR project, the refurbishment of various sections of the central railway, and the renovation of train engines and carriages.