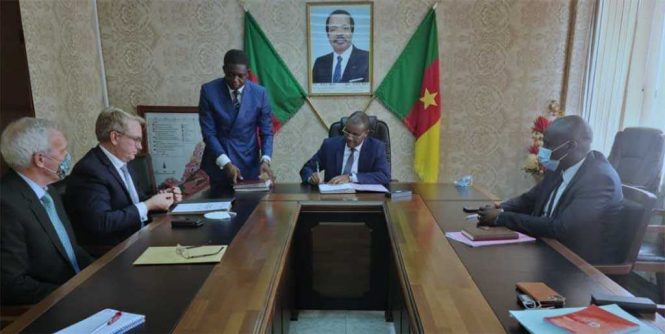 Canyon Resources Limited is pleased to announce that it has executed a Cahier de Charges, with the State of Cameroon ("Agreement"), in relation to the development of the Company's Minim Martap Project. The Agreement was initially proposed by the Ministry of Mines in Cameroon and following negotiation over a number of key points, the Agreement was executed with the Company and the Minister of Mines in Yaounde Cameroon on 17 May 2021. The Agreement confirms Canyon's major obligations and rights in relation to the Project exploration permits and stabilises the Company's position in relation to the Project until the completion of the Mining Convention for the Minim Martap Project. A Mining Convention is the definitive agreement between Canyon and the State of Cameroon regarding all the key rights and obligations for the development of the Project, including the taxation, legal, fiscal, social and environmental obligations of the Project.
Canyon Resources, is focused on the development of the 100% owned Minim-Martap Bauxite Project, a direct shipping ore (DSO) project development opportunity in central Cameroon. The Project is situated adjacent to the main rail line linking the region to the Atlantic port of Douala. The rail line is currently underutilised and coupled with the existing port of Douala, supports a low capex, low opex solution to deliver high grade, low contaminant, seaborne bauxite to market to fuel the large and growing aluminium industry as described in the 2020 Pre-Feasibility Study 1 .
The country is planning a rail extension and is undergoing rail line debottlenecking upgrades, giving longer-term potential for export through the newly built, deep-water port of Kribi. Canyon is planning the development of the bauxite Project in a 2 Stage, 2 Port execution programme with initial production exported through the port of Douala utilising the existing rail and port infrastructure and Stage 2 unlocking tonnes and reducing costs by utilising the planned rail extension to access the deep-water port of Kribi.
Read the full release here: https://www.canyonresources.co...