Executive Chairman Robert Friedland and Chief Executive Officer Lars-Eric Johansson announced at the end of October, that the company has agreed to rebuild 34 kilometres of track to connect the Kipushi Mine with the DRC national railway at Munama, south of the mining capital of Lubumbashi.
The Kipushi-Munama spur line, which has been inactive since 2011, will be rebuilt under terms of a memorandum of understanding (MOU) signed by Ivanhoe Mines and the DRC's state-owned railway company, Société Nationale des Chemins de Fer du Congo (SNCC).
The DRC national railway is a key part of the international rail corridor that links the DRC Copperbelt to major seaports at Durban and Richards Bay in South Africa, Dar es Salaam in Tanzania and Lobito in Angola.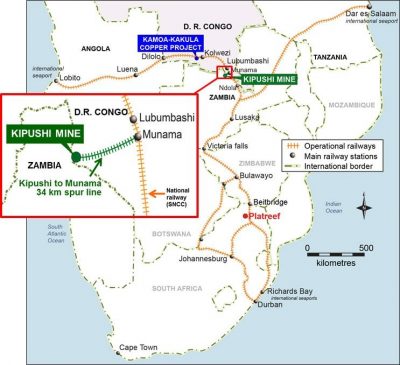 Daily Trains For Exports To International Ports
Mr. Friedland said the resumption of rail service along the Kipushi spur line is the most economical and reliable solution for the transportation of Kipushi's projected annual output of approximately 530,000 tonnes of zinc concentrates.
The World Bank is overseeing and financing the rehabilitation and upgrading of large sections of the main DRC national railway between Lubumbashi and the Zambia border crossing at Sakania. The work has focused on replacing the ballast beneath the tracks and installing new concrete sleepers (crossties) and heavier-gauge steel rails. New signalling and telecommunications equipment has also been installed along the line.
"A daily train from Kipushi will replace the equivalent of 50 road trucks, resulting in significant safety and environmental benefits to the DRC, Zambia, Zimbabwe and South Africa, reduced road and border congestion and decreased air pollution," Mr. Friedland explained.
"The reactivated spur line will provide significant economic and social benefits to residents of Kipushi and the southern DRC provinces of Haut-Katanga and Lualaba, allowing for efficient transportation of supplies to and from the area," he added.
"Given Kipushi's incredible zinc grades of approximately 35% and current zinc prices of between US$1.40 and US$1.50 a pound, we're confident that Kipushi is on track to become the world's highest-grade, major zinc mine. Discussions are ongoing with our partner, Gécamines, and prospective project financiers to fast-track completion of the remaining infrastructure development at the mine."
The Kipushi Mine is owned by Kipushi Corporation (KICO), a joint venture between Ivanhoe Mines (68%) and Gécamines (32%). Kipushi, on the Central African Copperbelt in the province of Haut-Katanga, is approximately 30 kilometres southwest of Lubumbashi and less than one kilometre from the international border with Zambia.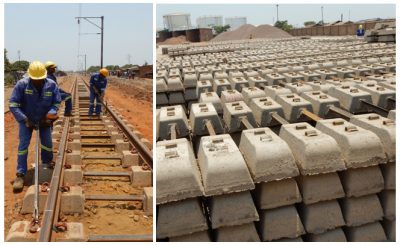 Front-end Engineering Design Study To Assess The Scope And Cost Of Rebuilding Spur Line
Under the terms of the MOU, Ivanhoe will appoint consultants to conduct a front-end engineering design study to assess the scope and cost of rebuilding the spur line from the Kipushi Mine to the main Lubumbashi-Sakania railway at Munama. The study is scheduled to begin before the end of this year and construction on the Kipushi-Munama spur line could start in late 2018. Ivanhoe will finance the rebuilding.
Mr. Johansson said that as with any mine development project, safe and reliable transportation is a key consideration in planning for production at Kipushi.
"This cooperation agreement on the railway project is similar to our successful, ongoing partnership with the DRC's state-owned power company, La Société Nationale d'Electricité, for the rehabilitation of three hydropower plants to support our development of the Kamoa-Kakula Copper Project."
Mr. Johansson added: "During the past five years, the 3,000 kilometre, north-south rail corridor has experienced a revival in freight volumes between South Africa and the African Copperbelt. Our decision to opt for rail as our primary mode of export transport will further enhance the economic stability of the railway operators along this entire corridor. Given the large and increasing volumes of copper and cobalt being exported from DRC, we expect to see more private-public cooperation agreements to rebuild other sections of the DRC railway system."
Kipushi Underground Upgrading Programme Nearing Completion
KICO has made excellent progress in modernising the Kipushi Mine's underground infrastructure as part of preparations for the resumption of commercial production. With the underground upgrading nearing completion, KICO's focus now will shift to modernising and upgrading Kipushi's surface infrastructure to handle and process the mine's high-grade zinc and copper resources.
The current mine redevelopment plan, as outlined in the May 2016 independent, preliminary economic assessment (PEA), has a two-year construction period with quick ramp-up to a projected, steady-state, annual production of 530,000 tonnes of zinc concentrate.
A pre-feasibility study (PFS) is underway to refine the findings of the PEA and to optimise the mine's redevelopment schedule, life-of-mine operating costs and initial capital costs required to return the mine to production, taking into consideration the significant capital already invested to date on critical rehabilitation work. The PFS, which Ivanhoe expects to complete before the end of this year, will focus on the mining of Kipushi's Big Zinc Deposit, which has an estimated 10.2 million tonnes of Measured and Indicated Mineral Resources grading 34.9% zinc. This exceptional grade is more than twice as high as the Measured and Indicated Mineral Resources of the world's next-highest-grade, major zinc project, according to Wood Mackenzie, a leading, international industry research and consulting group.
In addition to the Big Zinc Deposit, Kipushi has several copper-rich zones that also contain silver, germanium and zinc. Measured and Indicated Mineral Resources contained in the copper-rich Série Récurrente Zone, Fault Zone, and Fault Zone Splay total 1.63 million tonnes at grades of 4.01% copper, 2.87% zinc and 22 g/t silver, at a 1.5% copper cut-off, containing 144 million pounds of copper. Inferred Mineral Resources in these zones total an additional 1.64 million tonnes at grades of 3.30% copper, 6.97% zinc and 19 g/t silver.