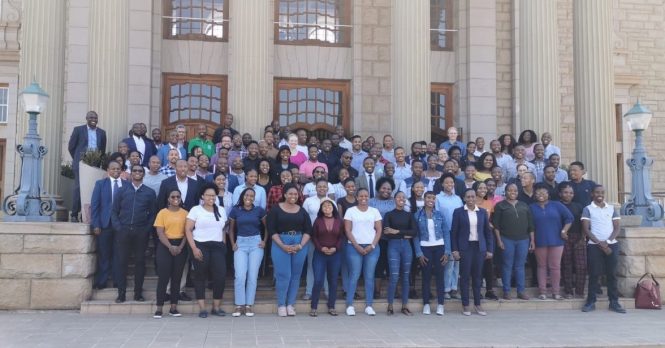 Transnet has welcomed more than 100 graduate engineers and technicians into its rail network operations.
The graduates are part of an Engineering Development Programme (EDP), an annual graduate intake programme by Transnet's rail division, Transnet Freight Rail, (TFR). The programme seeks to advance youth development by committing to skills development and training. EDP is also responding to government's call for the development of industrialists, which will assist South Africa in the creation and maintenance of economic infrastructure such as rail and ports. The EDP forms part of a larger training programme by Transnet, with over R700 million invested in training programmes for the 2018/19 financial year.
The trainees, comprising 73 Technicians-in-Training and 35 Engineers-in-Training, have recently graduated from various universities in South Africa. The Engineering Development Programme was also developed to address TFR's need to create and retain engineering expertise in the business.
Transnet has trained more than 1600 engineering and technicians graduates since 2012.
Once inducted, the trainees will be involved in Maintenance Planning and Execution, First Line support, Management of on Track Machines, Continuous Improvement and Lean Six Sigma Projects, Research, Project management among other duties.
Commenting on the programme, TFR's Acting General Manager: Rail Network Mr. Brian Monakali said, "EDP forms part of Transnet's overall training programme. The development of Engineers and Technicians in rail engineering creates a pipeline and succession pool of qualified and competent Technicians and Engineers who are ready to advance the business needs and be promoted into critical management and specialist functions."
The programme is 24 months long. Upon completion of the programme, the engineers and technicians will be employed permanently within the business. The candidates are considered in vacant positions within the business and are able to apply, move up the ranks within the business should they have the requisite experience.
"There has been some notable progress over the years in terms of the intake of Engineers and Technicians at Transnet. As a State-Owned Enterprise (SOE), we see the youth as the future leaders of our country and as informed by our mandate to commit to the skills development and training of our youth, the Engineering Development Programme seeks to contribute to the Government's plans to advance youth development," said Mr. Lloyd Tobias, Acting TFR Chief Executive.
To qualify for the programme, the candidates must have a minimum qualification of a Degree in Engineering (NQF 7) Electrical, Electronic, Civil, Industrial, Mechanical and Metallurgy. Technician bursars must have a minimum qualification of a National Diploma in Engineering (NQF 6) Electrical, Electronic, Civil, Industrial, Mechanical and Metallurgy.
TFR Executive Manager: Human Capital (Service Delivery), Ms. Zinhle Sithole said that Transnet has collaborated with a number of universities attract the engineering bursars.
"The Engineering Bursars are recruited from a number of tertiary institutions, the collaboration also gives Transnet a chance to tap into the minds of academics when comes to Engineering, Research and Development projects and other career developments," said Sithole.
The benefits for both the candidates and Transnet include:
To create capacity and ensure optimal maintenance and availability of the rail network through competent employees;
Develop capabilities necessary to implement innovative solutions including technology deployment.
To provide skills and competencies required to ensure successful project management and project delivery in the respective engineering disciplines
To attract young engineering graduates who align themselves with the Transnet culture charter and delivery promise of on time scheduled railway;
To also ensure that engineering graduates are involved with appropriate engineering activities and get the associated engineering exposure to enable them to obtain professional registration with the Engineering Council of South Africa (ECSA).