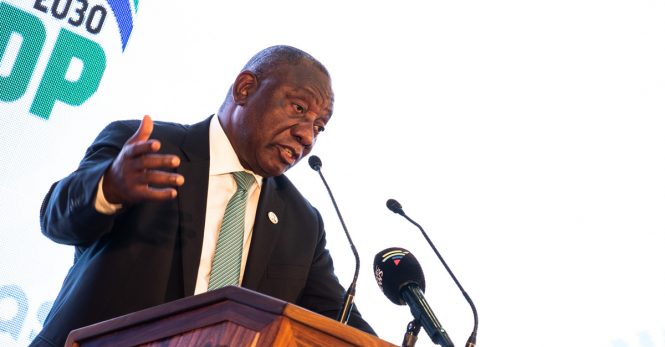 One would think that if rail and indeed transport – freight and passenger, was the backbone and catalyst of an economy – upstream and downstream, that the topic would garner more attention and actual delivery.
Especially at a time where unemployment, economic growth, company closures and the list goes on... well it's dire. It is a crisis in South Africa. Looking at the rail sector specifically and recalling an article from some time back, what comes to mind is: "The question is not how many jobs the rail industry will create. It's to what extent currently constrained rail capacity and pricing is limiting investment and job creation in other industries."
And whilst thinking about that – I believe, that if the Draft White Paper on National Rail Policy was actually turned into reality and action. Then we would not be reading about "dreams" we would be living them. In a truly inclusive economy.
This policy might be the only policy instrument that delivers results in terms of investment, manufacturing and job creation – across industry sectors.
Government and SOE's, cannot continuously call for private sector participation and then lock them out. Open access even at this point, limited access to South Africa's core rail network will bring about an immediate flood of investment, and private operators. More importantly… It will create jobs immediately, and by having more than one operator – the manufacturing sector would have more than one customer to serve and perhaps thrive instead die.
We would be able to add more transformation, efficiency and competitiveness within the sector. Quite literally, limited access could be a reality within months – it's as simple as Transnet saying yes.
Full access, well that is a bit more complicated, but if "we" start somewhere and work together, the complications become easier to deal with. This has been successfully rolled out in parts of Africa and is common practice internationally. So, as far as concepts go, it really is nothing new!
In seven years of State of the Nation speeches this is where rail and transport rank:
In 2020 - Rail was mentioned four times in the speech and transport was mentioned once.
In 2019 – Rail was mentioned once in the speech and transport was mentioned three times, the follow up speech in June – transport and rail twice each.
In 2018 - Rail was mentioned once in the speech and transport was mentioned zero times.
In 2017 – Rail was mentioned twice and transport was mentioned twice.
In 2016 - Rail was mentioned once and transport was mentioned once.
In 2015- Rail was mentioned Zero times and transport was mentioned five times.
In 2014 - Rail was mentioned twice and transport was mentioned three times and in June - rail was mentioned once and transport was mentioned three times.
All this "talk"
What was said: ( straight copy and paste based on word search..)
2020 February: "A key priority this year is to fix commuter rail, which is vital to the economy and to the quality of life of our people. Our rail network daily transports over a million commuters to and from work. We are modernising PRASA's rail network. The Central Line in the Western Cape and the Mabopane Line in Pretoria have been closed for essential refurbishment and upgrades. We are investing R1.4 billion in each of these lines to provide, a safe, reliable and affordable service. Work underway on other lines includes station upgrades, parkway replacements, new signalling systems and overhead electrical traction upgrades. As we work to fix the capabilities of the state, we know that growth and job creation will in large measure be driven by private enterprise. We are therefore building an operating environment that is favourable to doing business. Working together with social partners, we have continued to address several issues that have been barriers to job creation."
2019 February: "To improve the competitiveness of our exports, we will complete the studies that have begun on reducing the costs of electricity, trade, communications, transport and other costs. In addition to direct jobs, this export industry could generate as many as two million more jobs in food and agriculture, construction, transport, retail, and the creative and cultural industries by 2030.
More than R1,3 trillion has been invested to build hundreds of schools and two new universities, to build hundreds of thousands of new houses, to electrify more than a million homes, generate new electricity and to expand public transport.
We are pleased to report that significant progress has been made in restoring policy certainty on mining regulation and the visa regime, crafting the path towards mobile spectrum allocation, and reviewing port, rail and electricity prices.
We are making important progress in restoring the integrity and capacity of our strategic SOEs. To restore proper corporate governance, new boards with credible, appropriately experienced and ethical directors, have been appointed at Eskom, Denel, Transnet, SAFCOL, PRASA and SA Express."
2019 June: "It means we must improve the affordability, safety and integration of commuter transport for low-income households. We will continue to reduce the cost of doing business by reducing port export tariffs, pursuing lowest cost electricity generation options, and making rail transport more competitive and efficient.
We want a South Africa that has prioritised its rail networks, and is producing high-speed trains connecting our megacities and the remotest areas of our country."
2018 February: "To further stimulate manufacturing, we will forge ahead with the localisation programme, through which products like textile, clothing, furniture, rail rolling stock and water meters are designated for local procurement."
2017 February: "(The Moloto Road and a railway line are currently under construction with the purpose of ensuring the safety of road users and also bring to an end, the accidents that claim many lives.) During 2016, South Africa also signed a cooperation agreement with the People's Republic of China (PRC) to build the Moloto Rail Development Corridor.
Honourable members and fellow South Africans, students and their parents should understand that the needs for services such as water, sanitation, early childhood development and good public transport also have to be addressed, alongside access to quality higher education and training.
We also added cross-cutting areas such as science and technology, water and sanitation Infrastructure, transport infrastructure and broadband roll-out."
2016 February: "Transnet has built rail infrastructure which has enabled our country's mines to move massive bulk of commodities through our ports to markets around the globe.
The Nine-Point Plan consists of: ( introduced in 2015)
Revitalisation of the agriculture and agro-processing value-chain;
Advancing beneficiation adding value to our mineral wealth;
More effective implementation of a higher impact Industrial Policy Action Plan;
Unlocking the potential of SMMEs, cooperatives, township and rural enterprises;
Resolving the energy challenge;
Stabilising the labour market;
Scaling-up private-sector investment;
Growing the ocean economy;
Cross-cutting areas to reform, boost and diversify the economy;
Science, technology and innovation
Water and sanitation
Transport infrastructure
Broadband roll-out
SOCs.
We have made significant progress in the implementation of the plan."
2015 February: "Our ambition of achieving a growth target of 5% by 2019 is at risk, because of the slow global growth as well as domestic constraints in energy, skills, transport and logistics amongst others. Compatriots, Our economy needs a major push forward. We would like to share with you our nine point plan to ignite growth and create jobs.
These are:
Resolving the energy challenge.
Revitalising agriculture and the agro-processing value chain.
Advancing beneficiation or adding value to our mineral wealth.
More effective implementation of a higher impact Industrial Policy Action Plan.
Encouraging private sector investment.
Moderating workplace conflict.
Unlocking the potential of small, medium and micro enterprises (SMMEs), cooperatives, township and rural enterprises.
State reform and boosting the role of state owned companies, information and communications technology (ICT) infrastructure or broadband roll-out, water, sanitation and transport infrastructure as well as
Operation Phakisa aimed growing the ocean economy and other sectors.
The infrastructure programme continues to expand transport networks and to improve roads, which augur well for economic growth.
The Department of Transport will spend about R9 billion on the Provincial Roads Maintenance Grant or the Sihamba Sonke Programme and R11 billion on upgrading and maintaining roads which are not tolled.
Over R6 billion will be spent in 13 cities on planning, building and operating integrated public transport networks during this financial year. We will also continue to improve the infrastructure in schools and higher education institutions to create a conducive environment for learning and teaching."
2014 February: "The Gautrain project is now fully functional and carries over 1,2 million passengers a month. The Passenger Rail Agency of South Africa will spend over 120 billion rand over the next 10 years to buy new trains. Transnet is implementing its massive 300 billion rand market demand strategy, building much needed transport infrastructure. The construction of new rail lines has started in Mpumalanga, to ease the pressure off the roads."
Because 2014 was an election year, a second State of the Nation Address took place in June after the national and provincial elections.
2014 June: "We will utilise the renewable energy sector, the manufacturing of buses, Transnet's R50 billion locomotive contracts and PRASA's passenger rail projects among others, to promote local content and boost growth."
You are more than welcome to go back even further: All state of the nation speeches can be found: https://www.gov.za/state-nation-address
South Africa with all this proposed talk should be in the pound seat! Yet the reality is something completely different. This brings me to the words of the new PRASA Administrator, during his media briefing a few weeks ago, discussing the turnaround: "As you can possibly pick up, a lot of our challenges have been self-inflicted…."
#investment #econimicgrowth #southafrica #prasa #transnet #nationaltreasury #policy #infrastructure #railway #freight #logistics #transportation #operators #leasing #rollingstock #manufacturing #jobs #gdp