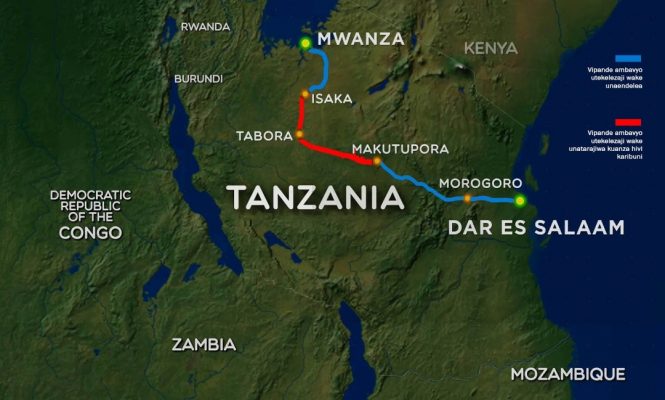 Tanzania Railways hopes to lay the foundation stone for the construction of the modern Railway - SGR Makutupora - Tabora (371 km) and Tabora - Isaka (162 km), soon to fulfill the promise of the President of the United Republic of Tanzania Ms. Samia Suluhu Hassan.
The construction of SGR Makutupora to Isaka, is a continuation of the first phase of the construction of the Modern Railway from Dar es Salaam to Mwanza with a length of 1219 km, where so far the implementation of the phase is taking place in three parts of Dar es Salaam - Morogoro, Morogoro - Makutupora and Mwanza - Isaka if a total of 1063 km of highways and crossings.

Speaking at the Tabora Regional Commissioner's office during a visit by the Board of Directors of the Tanzania Railways Corporation, TRC Director General Masanja Kadogosa said the process of starting the implementation of the Makutupora to Isaka project is progressing well, with expected to be completed soon. and construction begins.

Kadogosa added that "in the operation of the Railway, Tabora is an important part, trains going to Mpanda, Mwanza, Kigoma must all pass here so it is an area that they are looking at a lot.

Kadogosa added that "In the construction of the Modern Railway, we will try to pass through the suburbs so that more houses are not demolished, here in Tabora we will have a garage and a large station".

In addition, for his part Tabora Regional Commissioner Ambassador. Dr. Batilda Buriani explained that rail services have been the catalyst for the development of Tabora for many years and that the best are ready and eager to witness the official start of the construction of modern Makutupora - Tabora and Tabora - Isaka railway units.

"We are confident that the launch of these two phases of the SGR Construction project will also excite other areas in our region, so I assure you of security and that we will ensure that there is no sabotage against this costly infrastructure" added the Ambassador. Dr. Farewell.

On the other hand, the Chairman of the Board of Directors of the Tanzania Railways Corporation, Prof. John Kondoro thanked the Tabora Regional Commissioner for his co-operation with the TRC and for ensuring the protection and security of the railway infrastructure, either Prof. Kondoro has promised that the Corporation will continue to ensure good railway services and work on various challenges in the interest of Tanzanians.

The Board of Directors of the Tanzania Railways Corporation is on a three-day visit from Tabora to Mwanza to inspect the railway infrastructure as well as the fifth phase of the Mwanza - Isaka Modern Railway Construction Project which has reached 1% of implementation.