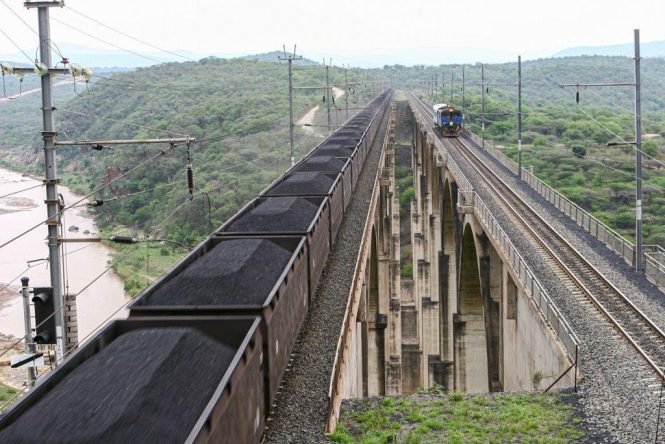 In pursuit of operational efficiency to achieve customer service excellence, Transnet Freight Rail (TFR) will embark on a ten (10) day shutdown of the Coal line for annual scheduled maintenance.
The shutdown started on 02 July 2019 and will end on the 11th July 2019, covering the entire coal line which has flows originating from the Ermelo, Vryheid, Richards Bay, Witbank, Ladysmith and Isando depots.
The Shutdown is an annual scheduled maintenance that is carried out in the month of July, to ensure that the company catches up on maintenance backlog, replaces old, obsolete and problematic infrastructure as part of sustainability of the business, as well as to accelerate the major capital expansion/upgrade projects in line with the expected volume growth.
The shutdown programme is also necessitated by the fact that on the coal line there are sections where infrastructure work cannot be carried out without stopping the entire train service.
The benefits expected from the shutdown in areas where work will be executed are as follows:
Increased network reliability and availability.
Improved train transit times.
Uplift 11 temporary speed restrictions (TSR's).
Reduced derailments.
Reduced hook-ups.
Reduced signal failures.
Reduced radio network and transmission line failures.
Activities to be carried out during the shutdown period include, amongst others, the following:
Sleeper replacement – 38 200 sleepers.
Rail replacement – 13.728km.
Ballast screening – 6km.
Formation rehabilitation – 6.02km.
Tamping – 237.5km.
OHTE component replacement.
Maintenance – Train authorisation systems.
Maintenance – Condition assessment systems.
Various Telecommunication projects.
During the shutdown, a total of 11 speed restrictions will be lifted, thus, enabling the maximum operation of the rail network after completion.
The execution of a safety strategy is paramount during the shutdown period to prevent incidents that could impact negatively on the business, therefore a comprehensive safety, risk and environmental plan has been developed to mitigate injury and environmental damage.
TFR has worked closely with its customers, contractors, and colleagues from other operating divisions to guarantee the successful execution of the shutdown programme.