Arab Contractors Company Chairman Monitors Progress At Cairo Metro Line 4 And Oversees TBM Installation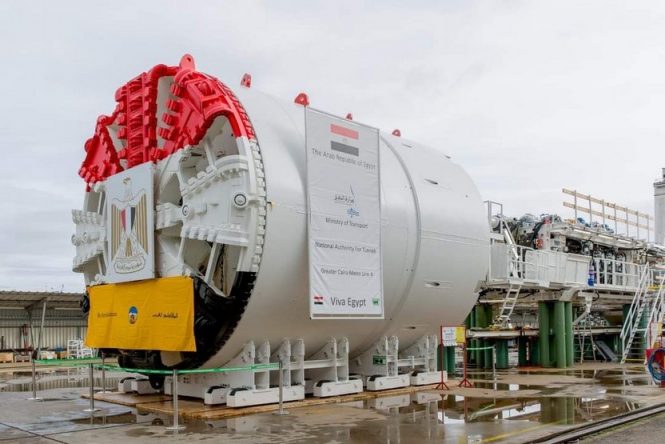 Eng. Sayed Farouk, CEO & Chairman of the Arab Contractors Company, visited Cairo Metro Line 4 Phase 1, supervised by the Ministry of Transport – National Authority for Tunnels. At the beginning of the visit, the Chairman held a meeting to review the implementation status of the project, executed by the company within the Egyptian JV. The company is building three stations: the Grand Egyptian Museum, the Pyramids, and Talbeya. Their work includes digging a 6.6 km tunnel from the Pyramids station to El Mesaha station, out of the total 13.6 km length of the first phase of the track.
Eng. Sayed Farouk was accompanied by Eng. Osama Moustafa – AC Board Member, Eng. Hossam Fayed – JV Manager, Eng. Mohamed Abou Deshish – Project Supervisor, Eng. Abeer Morsi – Project Manager, and several officials from the departments involved in the implementation. Eng. Sayed Farouk, CEO & Chairman of the Arab Contractors Company, observed the assembly of the recently purchased German tunnel boring machine (TBM) to be used on the project.
Eng. Sayed Farouk inspected the mobilization area of the Pyramids station, where work is in full swing, including the installation and welding works for the machine parts, which have a length of 100 meters, a diameter of 6.7 meters, and a weight of 685 tons. The drilling machine's shield is followed by six trailers, with the tunnel's outer diameter measuring 6.4 meters and the inner diameter 5.8 meters.
The Chairman examined the mobilization for the TBM support area during drilling, which contains an STP with a capacity of up to 2200 m3/hour, a power plant with a capacity of up to 9 MVA, a grout batching plant with a capacity of up to 100 m3/hour, a mechanical workshop, warehouses, and offices for the TBM crew.
Cairo Metro Line 4 is the foundation for linking 6 October City and New Cairo with the Metro network, serving high-density population areas in El Haram, Faysal, El Omraniya, and Giza. It is expected to transport 2 million passengers daily, with transportation service integrated with the Monorail of 6 October City.
The Egyptian Consortium, including The Arab Contractors Company (the Consortium Leader), Petrojet, Concord, and Hassan Allam Sons, is executing CML4 Phase 1, which includes 12 stations: Hadayek El Ashgar, Hadayek El Ahram, El Nasr, Grand Egyptian Museum, El Remaya Square, El Ahram, El Marrioutiya, Al Areesh, El Matbaa, El Talbiya, Madkour, and El Mesaha Square.