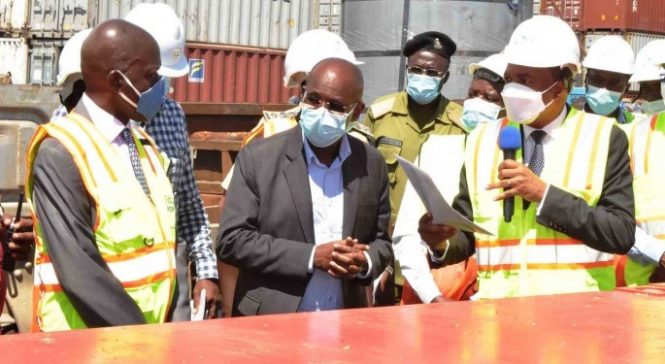 Minister of Works and Transport Prof. Makame Mbarawa has received 44 new freight wagons from the Tanzania Railways Corporation - TRC purchased through the Central Railway Improvement Project - TIRP, at the port in Dar es Salaam on October 06, 2021.
The carriages will be used to transport cargo from the port of Dar es Salaam to the dry port of Isaka in Shinyanga region using an old railway that has been upgraded through the TIRP project.
Along with the purchase of 44 new freight carriages, the TIRP project will enable the Tanzania Railways Corporation to acquire three new train heads that are in the final stages of construction to reach the country,
Speaking at the event, the Minister of Works and Transport Hon. Prof. Makame Mbarawa called on the Tanzania Railways to professionally manage its railway infrastructure projects focusing on the TIRP and Modern Railway Construction (SGR) project to strengthen the country's economy and change the lives of the general population through better and more reliable transport services. and transportation.
"The government is committed to developing infrastructure including railways, all this is to strengthen the economy and change people's lives, so let's take care of projects for ourselves and future generations," said Prof. Mbarawa.
In addition, Mr Mbarawa assured the TRC that the Government will continue to invest in the improvement and construction of railway infrastructure and called on the Corporation to ensure that it manages the revenue generators to be available in large quantities and used to buy wagons and train heads.
"The government will continue to provide funding for the rehabilitation of railway infrastructure and TRC is responsible for overseeing it, the Director and the chairman should ensure that revenue is available to buy wagons, heads and citizens to get a glorious service," said Hon. Mbarawa
Chairman of the TRC Board of Directors Prof. John Kondoro has asked the Government to re-approve the funds that will be used in the continuation of the Central Railway Improvement Phase II (TIRP 2) as this project is important in the railway transport sector.
The Director-General of TRC, Mr Masanja Kungu Kadogosa, explained that the first phase of the Railway Improvement Project (TIRP 1) included the purchase of wagons and heads, construction of the dry Harbor Isaka, construction of railway tracks, bridges and garages from Dar es Salaam to Isaac.
Similarly, the Director-General, Mr Masanja Kadogosa noted that in the project the bridges have been increased capacity to pass the load compared to rice where most bridges were able to pass a load not exceeding forty (40) tons per carriage but through these improvements, these bridges can carry 46 tons for one carriage.
Kadogosa concluded by saying, "Mr Minister, we have ordered three heads for this project but these heads are a little different from the ones we have right now have 'Horse Power 2000 -2100'. These new heads have more than 'Horse Power 3000', which means that now from here to Morogoro we will be able to use one head instead of two to pull the carriage "