Interest in developing modern African railways has never been higher, as various nations seek to improve rail rolling stock and infrastructure to reduce road traffic congestion and improve safety. Rail transportation is viewed as a key driver to future economic growth throughout the African continent.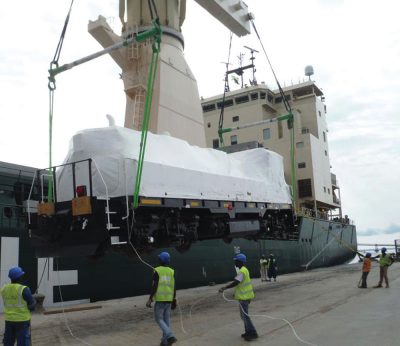 On the railway front, there are many initiatives underway, and some have already yielded positive results. African nations are seeking railway improvements that can be supported by technologies and systems that have worked well in other parts of the world, but that can be adapted to African socio-economic, geographic, environmental, and political realities.
A recent report on CNN repeated the perception that U.S. and other western countries have been reluctant to finance African railway projects "partly due to a fear that the African countries won't keep up the maintenance."
One U.S. rail supplier that does not share this concern is Atlanta-based Railserve, which recently placed a fleet of Railserve DUAL LEAF® Gen-Set Locomotives into service in Gabon.
These state-of-the-art genset locomotives have been in operation on Gabon's railway—Société d'Exploitation du Transgabonais (SETRAG)—since early 2016, as part of a modernisation of the country's rail freight services. Imported from the United States, the Railserve DUAL LEAF® locomotives support Gabon's commitment to climate change mitigation, as well as providing more efficient and reliable operations.
This was Railserve's first entry into Africa, and it won't be the last, according to LEAF Program Manager TJ Mahoney.
"Based on the success we've had—as well as the opportunities we see in Africa—Railserve is working with various parties to continue our participation in this vibrant market," said Mahoney. He says, Railserve acquired significant experience and knowledge about the needs of African railways through its delivery and ongoing support of Gabon's Railserve LEAF units.
"Based on the success we've had—as well as the opportunities we see in Africa—Railserve is working with various parties to continue our participation in this vibrant market". 

~ LEAF Program Manager TJ Mahoney​
African railway suppliers must adapt
"One of the reasons we are enthusiastic about Africa is that adapting our technology and services to the needs of our customer is a challenge we can economically handle," Mahoney says. "We see opportunities that are significantly greater than simply the sale of our locomotives to African customers."
Many nations are looking for railway systems partners who will provide a package of services and support in a number of areas, including:
Development of railway systems and operating practices that will provide ongoing benefits;
Workforce training to create a pool of skilled local labor and management;
Adaption of international railway technology that is appropriate to African markets; and
Implementation of safe and sustainable operating practices.
"Railserve is positioned to bring value to Africa in all these areas," Maloney says.
The Railserve DUAL LEAF®, for example, is the right size for most African yard, industrial, mining, port, and other operations.
The LEAF uses two Cummins QSX15 gensets to minimise fuel usage and significantly reduce emissions while maintaining the performance of a traditional shunting locomotive. The DUAL LEAF® is programmed to operate with only one genset under lighter loads, further reducing both fuel use and emissions.
Even though these locomotives were originally designed and built for the North American market, Railserve was able to readily adapt them for service in Gabon.
All cab interface markings and screens were provided in the locally preferred French;
Couplers are SA-3 type — required in Gabon but not used in North America;
Weight of the SETRAG locomotives was reduced to 100 tons (vs. the standard 130 tons in North America) to accommodate the lower allowable axle loads in Gabon; and
The LEAF's profile was adjusted to meet African gauge requirements.
Otherwise, the units are virtually identical to the more than 75 Railserve LEAF locomotives operating in the U.S. and Canada.
Beyond the modifications that were made to the Railserve LEAF for Gabon, the locomotive has a flexible platform that allows unique customer requirements to be satisfied.
Temporary power supply capability
Gensets are the power source on the LEAF locomotives. Each genset is simply an engine/radiator—packaged with a generator—to produce AC power. These components are mounted on a their own skid and installed under the hood of the locomotive, similar to genset units that are widely deployed across Africa as a source of supplemental power. Accordingly, Railserve LEAF locomotives can be used as a source of auxiliary power when they are not in use moving railcars.
Training local staff to perform shunting operations
Railserve has also found that its expertise in shunting operations can be applied to African railways.
Railserve is the leading provider of in-plant rail switching and associated services in North America — operating more than 70 locations. Railserve's experience includes shunting services, yard management, and railcar loading and unloading. Railserve is able to offer training programs that allow local African railway operators to utilise best practices to improve safety, efficiency, and cost performance.
Safety is the top priority, everywhere
"We've learned that African customers have a keen interest in the strong safety practices and culture Railserve has developed during 30 years of rail shunting services," Mahoney says. "We are proud of the fact that our crews work over two million hours annually with safety performance far better than the U.S. (OSHA) safety average."
Safety technologies and practices Railserve relies upon include:
REAct (Railserve Emergency ACTion): A remote transmitter worn on the safety vest that allows every crew member to stop its train in case of emergency;
Behavior-based safety: Railserve's Crew Audit and Critical Work Habits Checklist uses a process approach which emphasises that every job has critical steps. If done properly, this process will result in an injury-free operation; and
Safety Rule Book: Railserve subscribes to the principle that all accidents and injuries can be prevented.
Safety is also a top priority in the Railserve LEAF, which features:
A cab with 360-degree visibility;
Programmable maximum speed to insure yard parameters are followed;
Uses 90 percent less oil, which reduces stack fires and ember discharge.
Traction control system minimises wheel slip, reducing track damage and sparks;
Ergonomically sound design for maintenance, easy oil changes; and
Reduced decibel ratings for operator exposure as well as the local community.
With all these resources available for use on Africa's railways, Railserve is committed to expanding its presence in the market by demonstrating its commitment to act as a true partner that supports development of national infrastructure, economic activity, a skilled labor force, and environmental sustainability.
More information about Railserve is available at www.railserveleaf.biz