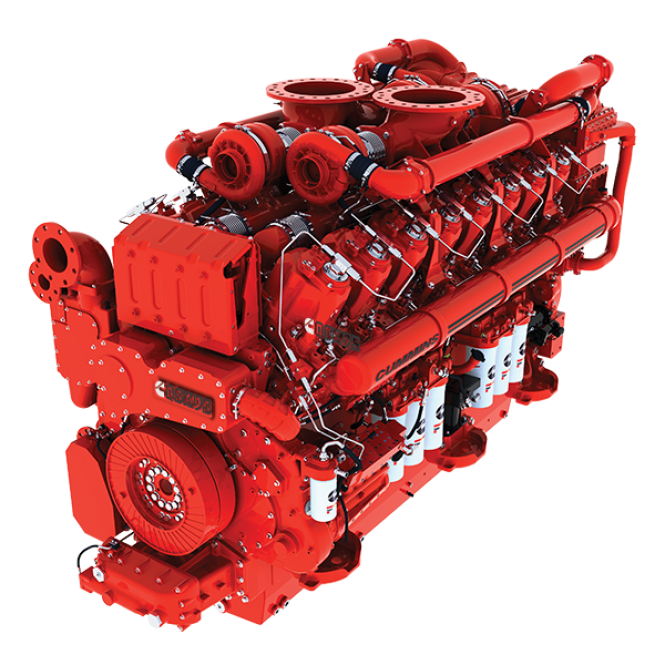 The first Cummins QSK95 engine designed specifically for the rail market began production at the Seymour Engine Plant (SEP) in the USA in September 2015. At 2 983 kW, the QSK95 is the highest-output 16-cylinder high-speed diesel engine available in the market.
Combining Cummins' latest-generation Modular Common Rail Fuel System (MCRS) technology with quad-turbocharging and integral Selective Catalytic Reduction (SCR) after-treatment, the QSK95 delivers reduced noise, excellent response and ultra-low emissions capability in a smaller footprint than the medium-speed diesel engines traditionally used in locomotives.
Cummins has delivered the first QSK95 engine built to a rail specification to Siemens for installation to its Charger locomotive, a new diesel-electric locomotive designed for the North American passenger rail market. The Charger locomotive was delivered into the market in 2016. Although it is currently being manufactured for passenger operations, the Cummins QSK95 is just as suited to freight applications, in any operating conditions.
"Cummins welcomes the opportunity to partner with customers globally to help them succeed," says Madelyn Pretorius, leader, Rail Sales & Business Development. "We are pleased that our ultra-clean diesel engine technology is helping them operate efficiently while significantly reducing emissions and improving the environment."
Cummins has 70 years of experience, with proven reliability and durability in high-speed diesels in rail. The company currently has over 13 000 engines in railway service globally. Locomotive, railcar, track maintenance and auxiliary power applications are all available in the Cummins engine product range in the rail segment, covering a complete power range up to 4400 hp using the QSK95 for both new and repower needs in this sector

"Cummins boasts extensive distributor coverage in Africa, with engine rebuild and service capability to support our product. We are able to offer best in class solutions to reduce customer total cost of ownership and still meet the harsh conditions of the African continent," adds Andy Pilkington, Director Africa Rail Business.