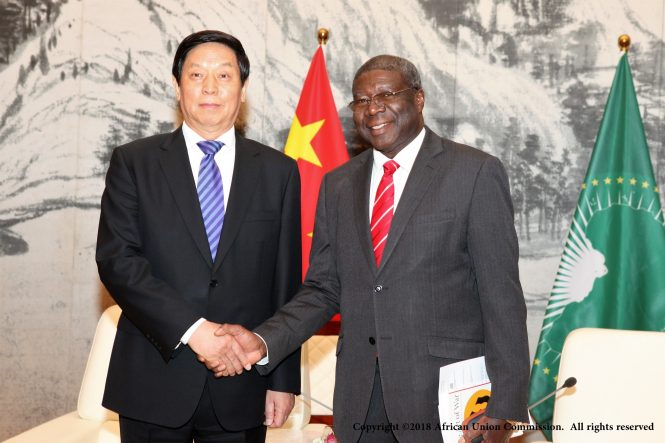 The African Union Commission Deputy Chairperson Amb. Kwesi Quartey met with Li Zhanshu, the Chairman of the Standing Committee of National People's Congress of the People's Republic of China at the African Union Headquarters last week, where both leaders renewed their commitments to consolidate and deepen the longstanding African Union- China strategic partnership. China has for long been one of Africa's most important allies, with significant Sino-Africa history, dating back to the colonial and liberation struggles.
The high level meeting and the first visit to Africa by Mr. Zhanshu, was an opportunity for the AU Commission and China to assess the implementation progress of the areas of cooperation under the Forum on China-Africa Cooperation (FOCAC) mechanism and the Belt and Road initiative. The leaders had exchanges on the need to capitalise on the synergies between the African Union and China, to ensure the success of the continental projects in areas such as peace and security, infrastructure, agriculture, manufacturing, energy, health and education sectors, whose realisation, they noted, would cement the win-win cooperation. These areas of cooperation were the centre of deliberations in the visit to China, by the Chairperson of the AU Commission Mr. Moussa Faki Mahamat.
Amb. Kwesi briefed on the priorities and flagship projects of the AU notably the establishment of the African Continental Free Trade Area, the protocol on Free Movement, the single air transport and further highlighted the progress in enhancing domestic resource mobilisation with the implementation of the decision on financing of the Union for the self-reliance and predictable funding of the AU activities and projects. Imposing the 0.2% levy on eligible imported goods will fund 100% of the operational budget, 75% of the program budget and 25% of the peace support operations of the African Union. Mr. Zhanshu reiterated China's support for Africa's development agenda noting that the cooperation would seek to advance the realization of the priorities of the needs of the African citizenry and would align to the continent's development blueprint; Agenda 2063, underpinned by the principles of mutual interests and shared values.