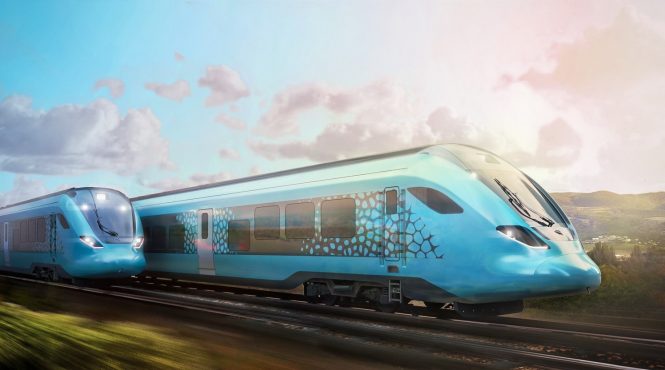 Talgo recently unveiled the calendar for the manufacture and commissioning of the future hydrogen train, a green, innovative and efficient alternative to replace diesel locomotives, which will be ready in 2023. The train will bear the name Talgo Vittal-One, being One is the reference to hydrogen's place on the periodic table, number one. The details have been presented during the event "Renewable hydrogen: an opportunity for Spain", organised by the Ministry for the Ecological Transition and the Demographic Challenge.
On-track hydrogen technology validation tests will be carried out in a first phase in 2021. After validation, hydrogen technology will be installed on the new train in a second manufacturing phase that will take place between 2021 and 2023.
The CEO of the company, José María Oriol, said during his speech: "Green hydrogen is no longer the future, it is a reality. The start-up of hydrogen trains such as the one Talgo is developing will improve mobility in our country hand in hand with the environment, as it will make it possible to take advantage of the non-electrified Spanish lines, while reducing the carbon footprint ".
This system is configured as a modular solution that allows its installation in all types of trains, as well as in conversion from diesel to hydrogen, but it has been specifically designed for the Vittal platform for Cercanías and Media Distancia, with which Talgo attends various processes bidding in Spain and other countries.
Hydrogen Powered Trains
This innovative system uses hydrogen batteries that provide energy to the train's electric motors. It is powered by renewable energy sources, such as solar photovoltaic or wind, which produce hydrogen that is stored and later used to power advanced propulsion systems based on fuel cells, such as the one designed by Talgo. The system is complemented with batteries that increase the acceleration available at starts, taking advantage of the train braking to recharge.
Unlike the extended battery systems in the automotive industry, hydrogen (H2) technology is presented as the logical answer to the needs of heavy transport and, in particular, of those railway lines that do not have electrification systems by catenary, and that today depend on trains powered by diesel engines. The hydrogen system designed by Talgo thus makes it possible to 'electrify' the lines of the conventional network without the need for costly and lengthy adaptation works, dispensing with fossil fuels.