Siemens Mobility Spotlights ETCS Solutions to Boost Regional Integration, Operational Efficiency, and Overcome Challenges in Southern Africa's Railways
At the recent Southern African Railways Association (SARA) conference and exhibition, Thomas Mashishi, Sales and Business Development at Siemens Mobility South Africa, outlined how railway technology solutions provided by Siemens Mobility could significantly enhance railway capacity, operational efficiency, and regional integration. This was particularly fitting for this year's SARA event, which carried the theme "Enhancing railway capacity & quality of services through new operating models & partnerships for seamless regional integration and trade."
In terms of interoperability, Thomas reflected on the European Train Control System (ETCS) as an option for achieving this. ETCS is an open, standardised signalling and train control system defined by suppliers and operators within the European Union. "This technology has been standardised in the EU for all new lines, and we have seen its numerous advantages for enhancing railway capacity and regional integration," said Mashishi. With its cross-supplier interoperability and standardised interfaces, ETCS overcomes the limitations and costs associated with traditional signalling interlockings. Thomas outlined the competitive advantages this system offers, not only in terms of safety and line capacity but also the ease of operations across international borders.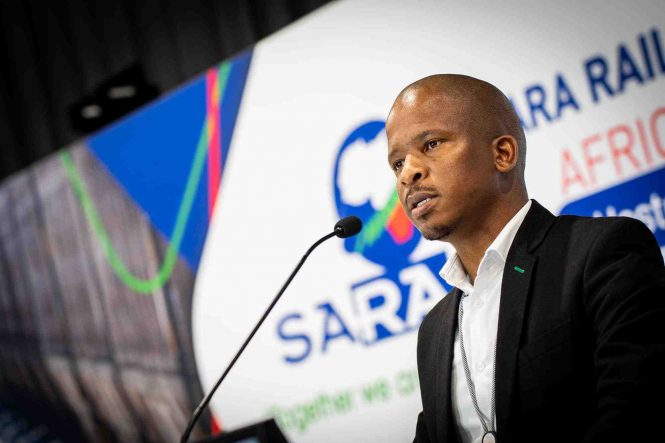 World Train Control System – a better name for ETCS?
Emphasising its global footprint, Thomas suggested that ETCS, with its implementation in Europe, Australia, the Middle East, and various sub-Saharan countries, could be aptly renamed as 'World Train Control System.' He highlighted how ETCS could tackle Southern Africa's regional railway challenges, such as copper theft, by eliminating wayside signals and thus reducing the reliance on copper, which is prone to theft. Additionally, ETCS enforces speed and signal compliance, thereby enhancing operational safety. "With ETCS Level 1, we can remove wayside signals, consequently decreasing the amount of copper used in the system, a material which is susceptible to theft. We can prevent driver errors by enforcing limits like speed and stop signals, and we are capable of reducing the number of track vacancy detection systems as well as signal elements in long sections between stations, further reducing the impact of theft on operations," explained Mashishi.
Moreover, Level 1 does not require a radio network, making it more economical to deploy compared to other technologies, and it can be integrated using the existing interlocking systems already in service, thus decreasing the capital required for Level 1 implementation. "Level 2, whilst similar to Level 1, requires a radio network for communication between the train and the Radio Block Centre (RBC), which interfaces with the interlocking," said Mashishi.
These solutions address the present, but what about the future as the industry embraces digitalisation in line with the 4IR?
Digital Solutions For The Future
Siemens Mobility's next-generation signalling systems are paving the way towards a digital future, aligning with the fourth Industrial Revolution. Thomas described a transition from traditional, cable-dependent systems to an innovative digital interlocking system with an IP-based architecture. This advancement promises centralised interlocking logic and limitless control distances, significantly diminishing the dependence on copper cables and, consequently, the risks associated with theft and vandalism, while still supporting the train control system overlay.
Reflecting on Siemens Mobility's implementation for Deutsche Bahn on the Annaberg-Buchholz line, which saw the first commercial use of a digital interlocking system in Europe, we can glimpse the future of rail infrastructure. "We implemented a versatile, future-proof interlocking architecture for the pilot use case, which included three-point machines, 13 signals, and 12 axle-counters," Mashishi recounted. This development was facilitated by eliminating the geographical constraints through the use of a highly reliable communication infrastructure. The use of intelligent field elements and power supplies, standardised interfaces, and IP-based trackside equipment significantly reduced the necessity for supplementary infrastructure like buildings, power supplies, air-conditioning and crucially removing the need for copper cables.
Looking to the future, Siemens Mobility's vision goes beyond electronic and digital interlockings towards what they term 'Rail Data Centres.' "A Rail Data Centre utilises a Distributed Smart Safety System, or DS3, with open, commercial off-the-shelf hardware that supports multiple applications on the same hardware, offering limitless scalability and providing a solution that is future-proof, accessible, and cost-efficient." highlights Mashishi. Such modernisation of infrastructure could substantially reduce the need for on-site equipment, streamline the management of software releases, and lower lifecycle costs.
"Siemens Mobility's new distributed smart, safe system platform allows existing signalling applications to run on standard hardware while maintaining the highest level of safety. DS3 utilises the multicore architecture of modern standard CPUs to process safety-relevant logic applications in parallel across several processor cores. This approach makes it feasible to transition existing signalling applications and permanently move the control logic to the cloud," says Mashishi.
Thomas emphasised Siemens Mobility's successful deployment of this technology in Europe, illustrating its potential to overcome geographical limitations noting that this would be an ideal solution for Southern African Railway operators looking to achieve not only regional interoperability but also enhance operational efficiency for their operations, with safety always being at the centre.