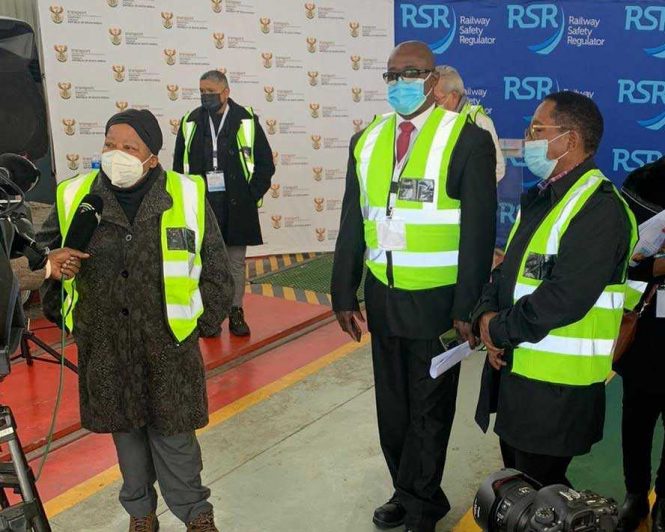 Yesterday, the Deputy Minister of Transport, Ms Dikeledi Magadzi and the Railway Safety Regulator (RSR) Board, conducted a rolling stock inspection at the Passenger Rail Agency of South Africa (PRASA), Wolmerton maintenance depot in Pretoria North, Gauteng.
The purpose of the inspection was to assess the condition of the depot against scheduled and unscheduled maintenance activities that keep PRASA trains, coaches, and motor coaches available, reliable and for safe train operations.
Assess the condition of the lifting equipment in the workshops, lighting in the workshops, and availability of spares in the store. To verify adherence of PRASA personnel to the set standards and procedures when performing these scheduled and unscheduled activities. Inspection of rolling stock at the depot. And, enforcement of regulatory instruments where non-compliance issues may have been detected.
The RSR in terms of the National Railway Safety Regulator Act 16 0f 2002 as amended (The Act) has been established to specifically oversee railway safety in South Africa.
In executing its legislative mandate, the RSR performs the following functions:
Issues and manages safety permits; conducts inspections and audits; and investigates railway occurrences.
Develops regulations, safety standards, and related documents which form the basis of the regulatory regime.
Issues notices of non-conformance and non-compliance and imposes penalties for non-compliance.
Conducts research.
Provides a support function in addressing occupational health and safety, and security issues in the rail environment.
Cooperates with relevant organs of State as well as its stakeholders to improve safety performance and oversight functions.
At the event, the Deputy Minister of Transport noted that - "It is my long-frustrated wish to see the following being achieved on the African continent: interoperability, harmonisation as well as the usage of rail as a preferred mode of transport. This could only be achieved through cooperation. Let me remind you that cooperation is the greatest word of the century. With cooperation, we can command peace, goodwill and concord without chaos, confusion, and ruin. Those of you who studied music will know that the combination of a choir and an accompaniment brings about harmony. The purpose of the orchestra is to manage the pitch and the purpose of the choir is to tell the story.
"Why am I citing this example?
"We need to work together for the collective good of railway safety. Each one of us has an important role to play; a violin may be seen as an insignificant instrument, but if you remove it from the orchestra things will fall apart. We are all in the same boat; if the boat sinks, we will all sink."