Thanks to the International Development Association (a branch of the World Bank), small plant and heavy-duty equipment have been supplied for the maintenance and the renewal of track infrastructure in the Katanga region of DRC. In this respect, Geismar has been awarded the manufacturing and supply contract for Track laying Gantries together with a sleeper spacing beam.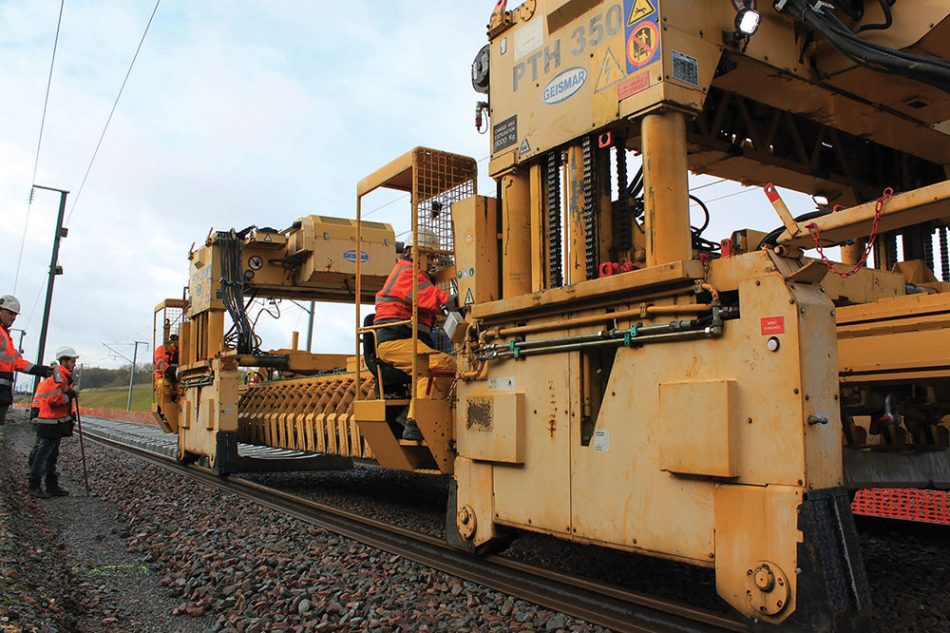 Geismar is proud to announce the completion and commissioning of the Track laying gantries model PTH 350 that will be used by the Société Nationale des Chemins de Fer du Congo (SNCC) to renew their track.
The self-propelled hydraulic portal cranes, model PTH.350, are high-performance machines designed to carry out new track construction as well as track renewal work.
They are designed to be used in pairs and can be operated on single track as well as double track, occupying only one line, on straight or curved sections, level or on a gradient, under bridges or tunnels, even in the case of heavy traffic and short track possessions. Each portal crane is hydraulically controlled, safely and easily by one operator from a control panel positioned on the side frame of the gantry.
A beam linking the two portal cranes handles track panels, timber, concrete and steel sleepers. A number of models of beams are possible depending on the type and the number of sleepers or the length of panels. The beam is designed according to worksite requirements. SNCC has chosen a sleeper spacing beam able to handle up to 40 bi-blocs concrete sleepers at a time and to remove track panels of up to 18m long.
When linked to the sleeper spacing beam, the PTH350 portal crane travelling can be controlled from the control panel of either one of the gantries. For safety reasons, lifting operations are synchronised from both control panels, each operator controlling their own portal crane.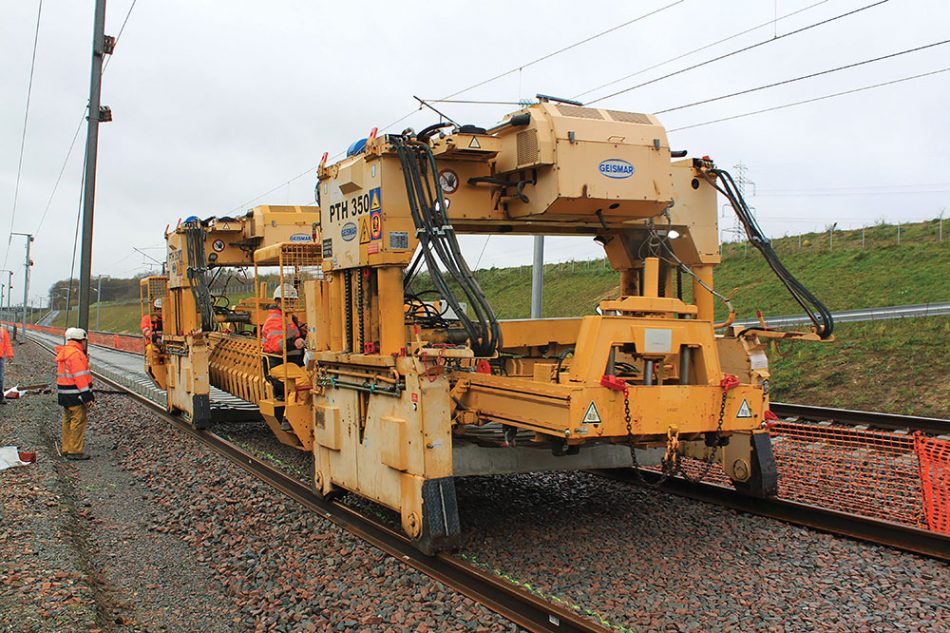 As the portal cranes, PTH.350 are telescopic, they can be easily transported on a flat wagon by means of rotating turrets that will allow the PTH350 to be unloaded into working position without infringing the clearance gauge. Easy to operate, a high-performance output can be obtained even on high traffic lines with very short track occupations. The SNCC's gantries will be able to renew more than a kilometre of track per day.
Geismar is a world-leading manufacturer, offering an extensive range of equipment to install, maintain and inspect railway infrastructure. Geismar is present throughout Africa and has a South African subsidiary known locally as Permatool.
Geismar has been manufacturing and selling equipment from its South African subsidiary since 1974. Geismar has designed and manufactured specific track laying equipment for the South African market, meeting the requirements of the country's narrow clearance gauge constraints and very short work intervals.
The solution that Geismar has implemented in the South African market is called the, PEM-LEM, which is well known in the country and has over the decades built a reputation for maximising the number of track panels being laid down in a given time. This solution works for all types of turnouts from the 1:9 to 1:20 types in South Africa. This solution which is made up of a set of gantries called PEM and a set of trolleys called LEM, is an innovative alternative solution to the gantries model PTH350. Their number depends on the length of the track panel or turnout to be laid or replaced.
Thanks to this modular method, the PEM LEMs are easily transported from one site to another either by road or by rail. Once deployed on the worksite, this highly automated set of equipment is controlled by only one operator using a remote control. First, the PEM type gantries will lift the new track panel from a wagon or from the side of the track, then the PEM will be positioned on the LEM type trolleys in order to transport the track panel or turnout to its final position, where the PEM will position it in place on the ballast.
Once completed, this equipment can be loaded back onto either trucks or wagons and moved to the next worksite without infringing the clearance gauge. The PEM-LEM solution has been designed in order to avoid the deformation of turnouts when being transported or laid, this is especially important for concrete turnouts.