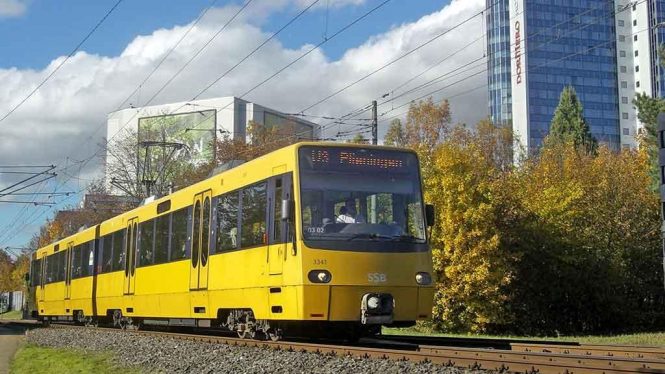 In spring 2019, Stuttgarter Straßenbahnen AG (SSB) commissioned Voith to modernize and renew the electric traction inverters of 50 light rail vehicles. Now, the first vehicle with the modernized traction inverters has been commissioned. The major project is to be completed by the end of 2025, thus ensuring the long-term availability and attractiveness of sustainable and climate-friendly local transport in Stuttgart.
SSB currently operates 204 light rail vehicles of the specific Stuttgart design S-DT 8. The four traction inverters are being modernized for a total of 50 vehicles of the S-DT 8.10 and S-DT 8.11 series. Due to Stuttgart's topographical location, these drive all axles of the vehicle to ensure operation on gradients of up to 8.5 percent. The ongoing modernization for the overhaul of a total of 210 traction inverters of the light rail vehicles allows a significant reduction in susceptibility to faults and a consistently high availability of the vehicles for the second half of their service life. As part of the modernization, both the mechanical refurbishment of the housings, switching elements, braking resistors and chokes as well as the replacement of the power electronics are being implemented.
Modernization During Operation
The challenge in this project is to ensure that the entire process from preliminary tests to series production conversions can be carried out without stopping the vehicles. "An essential requirement is to take the existing vehicles out of service for as short a time as possible. That is why we replace the units on a rolling basis with the help of existing replacement traction inverters," confirms Alfred Gmeiner-Ghali, who heads the sales department for electric drive systems at Voith in St. Pölten, Austria.
All newly installed components and technical solutions must fit perfectly into the existing technical environment of the vehicles. Voith has therefore developed a power module that draws on proven components but also takes into account all mechanical and electrical interfaces of the existing inverter. Targeted optimization measures led to a significant reduction in noise levels. "We are very pleased that additional weight has been saved. An improvement in the ventilation concept was also implemented," explains Roland Jauß, who works in the Systems Engineering staff department at SSB.
The special technical solutions developed by Voith are optimally designed for the demanding conditions of Stuttgart's public transport system and, with the modernization, contribute to future-proof and energy-efficient operation.