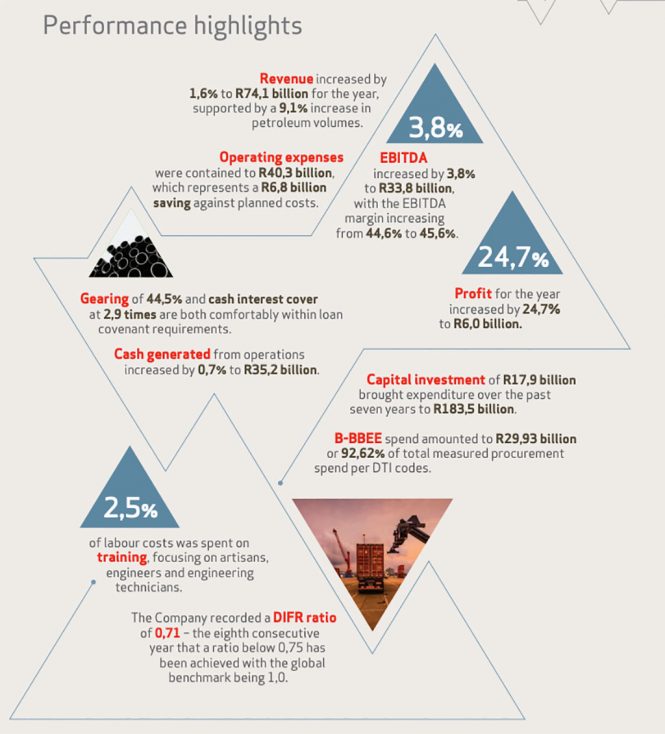 Performance Highlights
Revenue increased by 1,6% to R74,1 billion.
Operating costs contained to R40,3 billion (no increase on prior year).
EBITDA increased by 3,8% to R33,8 billion.
Profit for the year increased by 24,7% to R6,0 billion.
Capital investment of R17,9 billion for the year, bringing total expenditure over the past seven years to R183,5 billion.
Cash generated from operations increased by 0,7% to R35,2 billion.
Gearing of 44,5% and cash interest cover at 2,9 times.
The Company recorded a disabling injury frequency rate (DIFR) of 0,71 – below 0,75 for the eighth consecutive year and well below the global benchmark of 1,0.
Transnet Freight Rail
The 2019 financial year was turbulent for Transnet Freight Rail (TFR) as external and internal factors such as sluggish economic growth, unstable market conditions as well as operational and governance challenges impacted performance. These factors resulted in unsatisfactory performance as reflected by a 4,9% decline in volumes to 215,1 mt (2018: 226,3 mt).
In spite of the challenges experienced by TFR, growth in several general freight businesses and increased rail capacity was accomplished, reflecting the drive to grow the general freight business in key sectors such as containers, automotive, agriculture and traditional mining.
For Instance:
The Cato Ridge facility handled more TEUs in 2019 than in the prior year (15 049 TEUs vs 761 TEUs in 2018). These export containers are destined for the Port of Durban – contributing to the decongestion of the Bayhead Precinct and gate congestion at the Port of Durban. The equivalent road truck trips of the additional TEUs handled is comparable to 7 525 trips, based on an average of two TEUs per truck.
The Newcon terminal in Newcastle handled an additional 206 568 tonnes compared to prior year (13 830 tonnes vs 220 399 tonnes).
Toyota Export Shuttle volumes increased from the plant to the Port of Durban (33 082 units vs 26 139 units in 2018), also contributing to decongesting the City of Durban by reducing road truck activity.
Refrigerated cargo (reefer traffic) railed from Polokwane to the Port of Durban increased by 7% year on year to 3 994 TEUs (2018: 3 722 TEUs).
Timber tonnages improved by 3,44% to 2,39 mt (2018: 2,31 mt).
Manganese volumes grew by 2,19% to 14 mt (2018: 13,7 mt) exceeding the budget by 2,24%.
This was the result of the implementation of an innovative rail solution that successfully tested and operationalised a 375-wagon manganese train. The production train has the most number of wagons in the world and surpasses our own 342-wagon iron ore export train.
• Chrome volumes grew by 4,6% to 7,1 mt (2018: 6,7 mt).
• Granite recorded growth of 8,2% to 48 957 tonnes (2018: 45 270 tonnes).
You can download the full Transnet Financial Results Pack– 2019 from : https://www.transnet.net/InvestorRelations/Pages/Annual-Results-2019.aspx