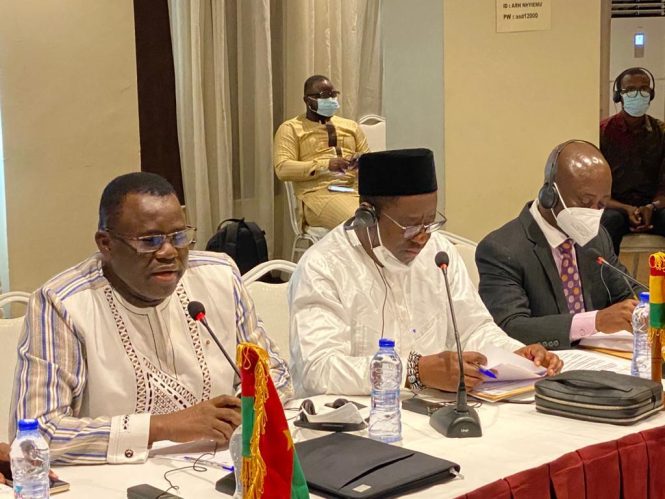 As part of efforts to develop the Ghana – Burkina Faso Railway Interconnectivity Project, the Governments of the two countries have shortlisted three bidders for the project. The three competitors for the project were on Thursday 22nd April 2021 issued with the Request for Proposal (RFP) documents as part of the final stage of the procurement process for the selection of a strategic private sector investor to partner the two countries for the development of the interconnectivity project under a Public-Private Partnership (PPP) arrangement.
The Transaction Advisors for the project, Messrs TEAM Engineering SpA and Vision Consult Limited at a Bidder's Conference meeting issued the RFP to the representatives of the three bidders who have formed consortia bringing together relevant expertise for the development of the project. The three consortia are African Global Development Sarl, China Railway No. 10 Engineering Group Co. Ltd. and Frontline Capital Advisors respectively.
At the Bidders' Conference held in Accra on Thursday 22nd April 2021, the Minister for Railway Development, Hon. John-Peter Amewu disclosed that, the two countries have been working with common Transaction Advisors who have assisted in carrying out detailed feasibility studies and the Front-End-Engineering Design for the project as part of the first phase of the project development.
According to him, the second phase of the implementation of the project, which focuses on the procurement process for the private sector partner, commenced simultaneously with the conduct of the feasibility studies covering the entire stretch of over 1000km from Mpakadan to Ouagadougou.
The policy direction according to Ghana's Railway Master Plan is to connect to economic and industrial zones, as well as, all regional capitals by rail. Therefore, the route or alignment would connect the major towns and cities in Ghana from Mpakadan, where the section of the rail line from the Tema Port is currently under construction such as Kpeve, Hohoe, Jasikan, Nkwanta, Bimbila, Yendi, Tamale, Walewale, Bolgatanga, Navrongo and Paga. The Burkina Faso section of the rail line would traverse major towns like Po, Zabre, Tenkodogo, Manga and Ouagadougou.
Both countries have agreed that the commencement of physical construction works in respect of the project is expected to be within the first quarter of 2022 after a private sector concessionaire has been successfully procured by the end of November 2021.
The Railway Development Minister commended the Transaction Advisors, TEAM Engineering S.p.A. of Italy and Vision Consult Limited of Ghana for the diligent and thorough work done so far.