Robert Friedland, Co-Chairman of Ivanhoe Mines (TSX: IVN; OTCQX: IVPAF), has announced in a keynote address at the 25th annual Mining Indaba that the company and its Chinese partners, Zijin Mining Group and Crystal River Global Limited, welcome the extremely positive findings of an independent pre-feasibility study (PFS) for the development of the Kakula copper mine and an updated, expanded preliminary economic assessment (PEA) for the overall development plan of the Kamoa and Kakula copper discoveries at the Kamoa-Kakula Project on the Central African Copperbelt, in the Democratic Republic of Congo (DRC).
"It has been a remarkable 25 years since my first keynote presentation at the very first Mining Indaba, in this beautiful city of Cape Town, South Africa. In that inaugural speech in 1994, we shared with delegates how African Minerals, the founding, corporate trailblazer for Ivanhoe Mines, was focused on its quest for major discoveries in and around Southern Africa's legendary mineral fields," said Mr. Friedland.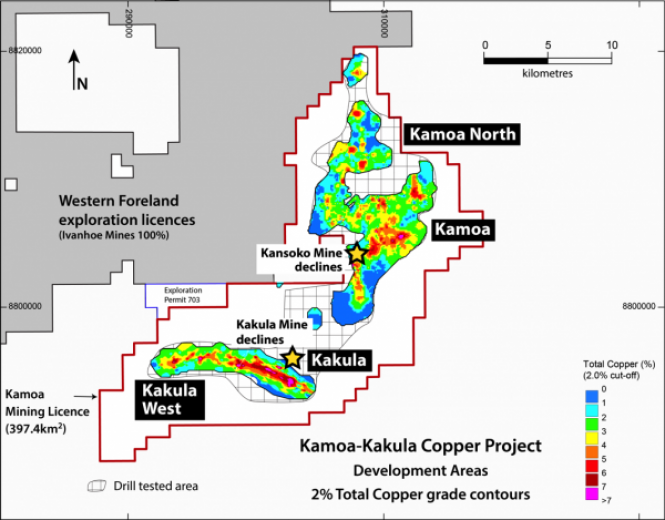 "Now, after more than a quarter of a century of exceptional field work by our team of visionary and tenacious exploration geologists, we are about to make the 'Great Leap Forward' from one of the modern world's top mine finders to one of the world's leading producers of copper – as well as palladium, platinum, zinc, nickel, gold, silver and rhodium from the other two major mining projects that Ivanhoe is developing in Southern Africa.
"To all of our African Brothers and Sisters, you now can clearly see the fruits of the incredibly intensive efforts by our people over the past two decades, while overcoming countless challenges, to initially discover, then extensively expand, the Kamoa and Kakula resource base with a massive drilling and engineering effort.
"The Kamoa-Kakula Project now stands as the 'Beacon that Shines Light' on the fundamental importance of stable and transparent legal and fiscal frameworks. Looking back on the last 25 years, we reiterate the obvious fact that mining is a very long-term business that requires stability to attract capital. Future generations of young Congolese people will massively benefit from the establishment of a stable and predictable fiscal environment to attract foreign investment.
"Today, together with our strategic shareholder CITIC Metal, our Co-Chairman Yufeng "Miles" Sun, our Chinese joint-venture partner Zijin Mining, and the newly elected DRC government, led by His Excellency Félix Antoine Tshisekedi Tshilombo, we are proud to share with the world these outstanding, independently-prepared, engineering studies conducted over the past two years.
"These studies clearly prove our long-standing conviction that Kamoa-Kakula is firmly on track to become one of the absolute greatest copper mining complexes in the world, helping to restore Katanga's rightful position as the world's largest copper producing region. This would not have happened without the extraordinary efforts of the Ivanhoe discovery team and our investment of more than US$800 million in exploration and development.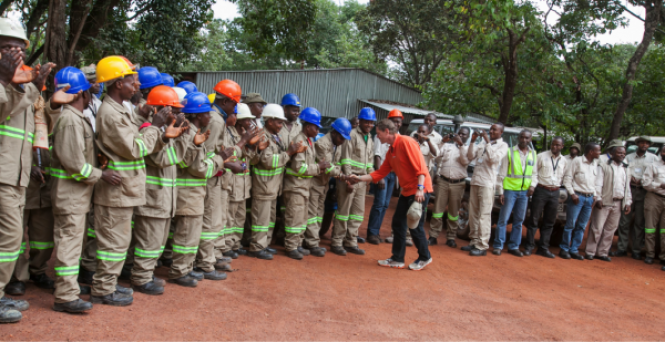 "We now look forward to working with the new government of the DRC and the Congolese people to develop Kamoa-Kakula to its full potential, generating widely shared economic benefits that will help to uplift local communities, and provide skills training to help ensure that young Congolese can qualify for the thousands of meaningful direct and indirect jobs that will be created."
The PFS and updated PEA build on the outstanding results of the previous PEA announced in November 2017. The PFS has advanced the detailed design and engineering in that earlier study and has confirmed the viability of the project. As well, the re-scoped and expanded PEA shows the potential to develop the project to a larger scale and with a larger production capacity.
The Kamoa‑Kakula Project has been independently ranked as the world's largest high-grade copper discovery by international mining consultant Wood Mackenzie of London in the United Kingdom.
The PFS and PEA encompass two development scenarios:
Pre-feasibility study for stage one Kakula mine development. The Kakula 2019 PFS evaluates the development of a stage one, 6 Mtpa underground mine and surface processing complex at the Kakula Deposit – a 2016 discovery that occurred just three years ago.
Expanded, subsequent development to three producing mines. The Kamoa-Kakula 2019 PEA also includes an option for an integrated, 18 Mtpa, three-stage development, beginning with initial production from the Kakula Mine, to be followed by a subsequent, separate underground mining operation at the nearby Kansoko and Kakula West mines, along with the construction of a direct-to-blister smelter. A further four separate mines will be developed in the Kamoa North area as resources are mined out, to maintain the production rate at 18 Mtpa.
The Kakula 2019 PFS and Kamoa-Kakula 2019 PEA were independently prepared by Amec Foster Wheeler E&C Services Inc. (a division of Wood PLC) of Reno, USA; DRA Global of Johannesburg, South Africa; KGHM Cuprum R&D Centre Ltd. of Wroclaw, Poland; OreWin Pty Ltd. of Adelaide, Australia; Stantec Consulting International LLC of Arizona, USA, and SRKConsulting Inc. of Johannesburg, South Africa.
The Kamoa-Kakula 2019 PEA is preliminary in nature and includes an economic analysis that is based, in part, on Inferred Mineral Resources. Inferred Mineral Resources are considered too speculative geologically for the application of economic considerations that would allow them to be categorized as Mineral Reserves – and there is no certainty that the results will be realized. Mineral Resources do not have demonstrated economic viability and are not Mineral Reserves.
A National Instrument 43-101 technical report will be filed on SEDAR at www.sedar.com and on the Ivanhoe Mines website at www.ivanhoemines.com within 45 days of the issuance of this news release. The technical report also will include an updated Kamoa pre-feasibility study, which evaluates the development of the Kansoko Mine as a stand-alone 6 Mtpa underground mine and surface processing complex that would be supplied with ore from the planned development of the Kansoko Sud and Kansoko Centrale areas of the Kamoa Deposit. The Kamoa 2019 PFS will restate the findings of the Kamoa 2017 PFS with economics based on updated assumptions.
Map of the Kamoa-Kakula mining licence showing the Kakula and Kansoko mining areas, as well as Kakula West, Kamoa North, and a portion of Ivanhoe's adjacent, 100%-owned Western Foreland exploration-licences area.
"The new PFS and PEA, independently prepared by six of the world's top engineering firms, reinforces the fact that Kamoa-Kakula is unquestionably the world's best undeveloped copper discovery," said Mr. Friedland. "Kamoa-Kakula is unique as it combines ultra-high copper grades in thick, shallow and flat-lying orebodies ─ allowing for large-scale, highly-productive, mechanized underground mining operations. Kakula is projected to have an average grade of 6.8% copper over the initial five years of operations, and 6.4% copper over the first 10 years ─ grades that are orders of magnitude higher than the majority of the world's other major copper mines.
"This mine is getting built. And, most importantly, it is being built to international best practices that will be a showcase for responsible mine development.
"As good as the economic numbers are in this PFS for Kakula, you simply cannot apply conventional discounted cash flow analysis to Tier One projects like Kamoa-Kakula and expect to get a sensible answer on long-term value. Massive, high-grade deposits like we have found at Kamoa-Kakula ─ which have the potential to produce large quantities of copper for multiple generations ─ are very long-term plays. The real value is generated over time, in the phased expansions.
"Ten years ago at the World Copper Conference in Santiago, Chile, we announced to the world that Ivanhoe Mines had "made a major copper discovery of historic importance" in a previously unrecognized area that was beyond the western end of the Copperbelt in the Congo, and that "Kamoa will become a world-class mining camp of great importance to the Democratic Republic of Congo".
"Today, together with our partners, Zijin Mining and the government of the DRC, and the outstanding work by our exceptionally talented team at Kamoa-Kakula, comprised mainly of bright, young Congolese men and women, we are making these bold predictions come true.
"We invite institutional investors and analysts to visit the DRC, meet the people, and see first-hand how our team is transforming the original Kamoa discovery we announced 10 years ago into a state-of-the-art mining operation with the potential to become one of the world's three largest copper mines, with peak annual production of more than 700,000 tonnes of copper.
Mr. Johansson, Chief Executive Officer and President of Ivanhoe Mines, said that discussions for financing the construction of the initial 6 Mtpa mine at Kakula are progressing well with China-based financial institutions. CITIC Metal, Ivanhoe's largest shareholder, is assisting with the discussions.
Mr. Johansson also noted that the economic assessments do not factor in the recent exploration success at Kamoa North, which is a prospective new mining area. The current study also does not factor in the ongoing drilling programs on new targets at Kamoa-Kakula or the company's 100%-owned Western Foreland exploration area. Additional exploration successes that already have occurred may well have a significant positive influence on the size, value, and timing of the overall development plan; as such, the Kamoa-Kakula development plans will be continuously reassessed and amended as the project moves forward to reflect ongoing exploration success.
"The 18 million-tonne-per-annum development scenario clearly shows the economic potential for a phased development plan for Kamoa-Kakula to become one of the largest copper mines in existence," said Mr. Johansson. "However, as evidenced by our remarkable discovery hole drilled at Kamoa North announced last week ─ the thickest high-grade intersection yet at Kamoa-Kakula returning 13.05% copper over 22.3 metres starting at a depth of only 190 metres below surface ─ we are confident that there are more high-grade copper discoveries to be made in the area and the ultimate scale of operations at Kamoa-Kakula can be much larger. We see no geological limitation to the goal of eventually producing one million tonnes of copper per year.
"While our engineers are focused on expediting the development of the initial Kakula Mine, our geological team remains focused on unlocking the full potential of the Kamoa-Kakula and Western Foreland copper districts. We plan to keep the drills turning as we continue our search for the next Kakula, or perhaps an even better discovery.
Mr. Johansson also said that the implementation of community-support initiatives at Kamoa-Kakula are central to mine-planning considerations. "Ivanhoe and Zijin are proud of our community-support initiatives that include fish and chicken farming, agricultural projects, and the construction of new schools, houses, clinics, roads and power infrastructure.
"We already have made significant improvements in the lives of the Congolese people living in the communities near Kamoa-Kakula that will help promote and define their children's health and education for the foreseeable future."