Rolling Stock For Kenya's Standard Gauge Line Arrives At Mombasa Port
17 January 2017
REF: RA20171479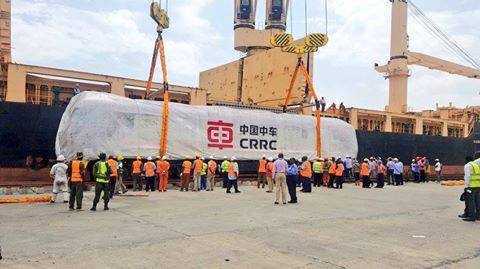 The first batch of six locomotives to be deployed on Kenya's much anticipated national Standard Gauge Railway (SGR) line arrived in the port of Mombasa aboard MV Kota Bistari from China on 7 January and were offloaded on 9 January, under the supervision of China Road and Bridge Corporation (CRBC). Transport cabinet secretary James Macharia officially unveiled the new rolling stock at a ceremony held at Port Reitz station on 11 January.
Kenya Railways has entered into a procurement deal with China's CRRC to supply 56 locomotives, 40 passenger coaches and 1,620 wagons, which will be deployed between Mombasa and Malaba, once the country's SGR line is commissioned in July of this year. According to Kenya Railway Corporation (KRC), the 42 locomotives that will be used to haul freight are capable of transporting up to 22 million tonnes of cargo collectively, which is it hoped will boost trade and investment along the transport corridor. Once commercial operations are initiated, five passenger trains with a capacity of 1,096 commuters, will significantly increasing mobility and reduce travel times between Kenya's largest economic zones.
Further shipments of rolling stock destined for the country's new railway line are currently being deployed from China, with KRC expecting to take delivery in February. Once the entire fleet is in operation, KRC will operate 43 freight trains, 5 passenger trains, 8 shunters, as well as the tampering and ballasting machines needed for track maintenance in partnership with their Chinese investors.
Please login in order to like entries
Share this Post:
Related Posts: