Kenya SGR: Relocation Action Plan for Phase 2A Underway
31 January 2017
REF: RA20171925
The Kenya Railways Corporation (KRC) officially announced the commencement of their Relocation Action Plan, in preparation for construction to begin on Phase 2A of the country's standard gauge railway (SGR) project, in the following statement:
Members of the public whose homes and properties lie along the corridor of the Nairobi to Naivasha SGR project will soon be called upon to relocate in order to pave the way for the construction. This follows the commencement of the Relocation Action Plan process, initiated on 9 January.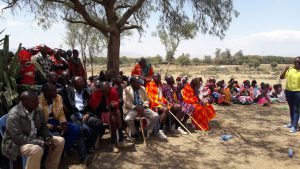 Members of the public living in the Nkoroi area of Kajiado County attending a sensitisation meeting organised by Ecoplan Management Ltd.
According to social environmentalist assistant, Stella Ndiwa, Kenya Railways has contracted Ecoplan Management Ltd. and Earthscope Survey Services to provide consultancy services for the preparation of the Resettlement Action Plan for Phase 2A.
The primary objective of the consultancy is to provide an acceptable plan for the resettlement and compensation of persons affected by the land acquisition process. The scope of works for the consultancy entails undertaking a detailed desktop review of the project literature, identifying the landowners and properties affected, developing a resettlement action plan and developing a monitoring programme for the project.
Phase 2A of the SGR line runs across parts of Nairobi, Kajiado, Kiambu, Nakuru and Narok counties and covers a distance of 120km. For this section of the project, the length of the subgrade will be 87.98km, (73.3% of the total length); the bridgeworks 23.96km long (20%); and tunnels 7.756km, (6.7%).
Please login in order to like entries
Share this Post:
Related Posts: