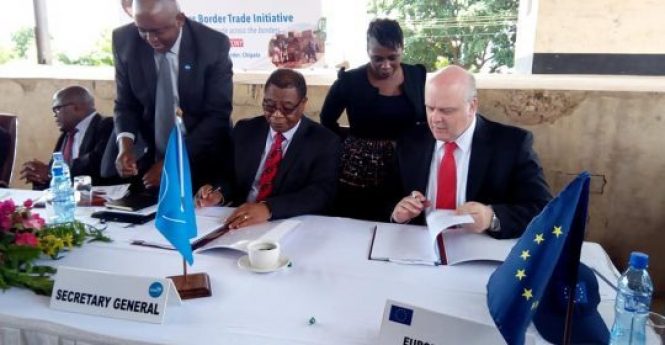 COMESA and the European Union have signed a €15 million Cross Border Trade Programme to facilitate small-scale cross-border trade flows. Secretary General Sindiso Ngwenya and Head of EU Delegation to Zambia and COMESA H.E Alessandro Mariani penned the agreement at the Mwami Border post between Zambia and Malawi on May 8, 2018.

The programme is financed under the 11th European Development Fund (EDF) to increase formal small-scale cross-border trade flows in the COMESA/tripartite region. It will support governance reforms, institutional capacity building, improved border infrastructures and better data collection and monitoring. Ultimately, it will result in higher revenue collection for governments at the borders and higher incomes for small-scale cross-border traders.
The signing of the Agreement heralds the beginning of implementation of the planned activities at the targeted border areas in the COMESA region.
The beneficiaries are primarily small-scale traders, in particular women traders, that regularly cross the borders in the COMESA/tripartite region to sell and buy goods, as well as the associations who represent them and defend their interests.