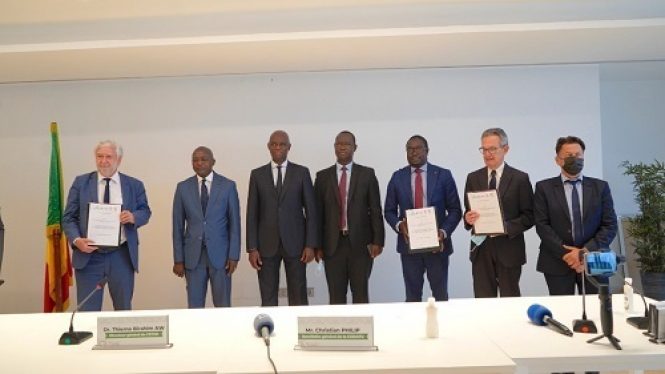 The Dakar Urban Transport Executive Council (Cetud), the Cooperation for the Development and Improvement of Urban and Peri-Urban Transport (Codatu) and the "Climate Chance" Association signed a partnership agreement this Thursday, April 15, 2021. It relates to the organization of the Sustainable Mobility and Climate Week which will be held in Dakar from September 13 to 17, 2021. The signing ceremony was held in the presence of Mr. Oumar Guèye, Minister of Territorial Communities, of Development and Territorial Planning , Mr. Dramé, Director of the Environment and Listed Establishments, and the Minister of Infrastructures, Land Transport and Opening up.
According to the organizers, the objectives of the sustainable mobility and climate week are "to update the crucial issues of the urban mobility of people and goods, and to improve its functioning in an approach adapted to the adverse effects. of climate change ". This major post-Covid-19 recovery event will mark "the importance of these themes for Senegal and Africa, whose development is strongly impacted by congestion in cities, as well as by environmental threats".
Speaking, Mr. Mansour FAYE declared that "this event will be an opportunity to organize, at the same time, the CODATU 18 Conference and the 3rd edition of the Climate Chance Africa Summit. Moreover, this meeting will coincide with the 40th anniversary of CODATU which, he is happy to recall, was born out of the World Conference on Urban Transport which was held here in Dakar, in 1980 ". And to add "the organization of this Sustainable Mobility and Climate Week reflects the will of the State of Senegal and its partners to respond to the challenges of urban mobility in a perspective of low-carbon and inclusive economic growth of the countries. in development. Indeed, with 6.7 billion city dwellers by 2050, against more than 4 billion currently, the global rate of urbanization will rise to 70%;
Thus, "urban areas being the most exposed to climate change, the issue of mobility becomes inseparable from the more encompassing concept of" sustainable city "which requires simultaneous consideration of the social, economic, environmental and cultural issues of urban development, within a governance framework including modes of participatory democracy "concludes Mr. FAYE.