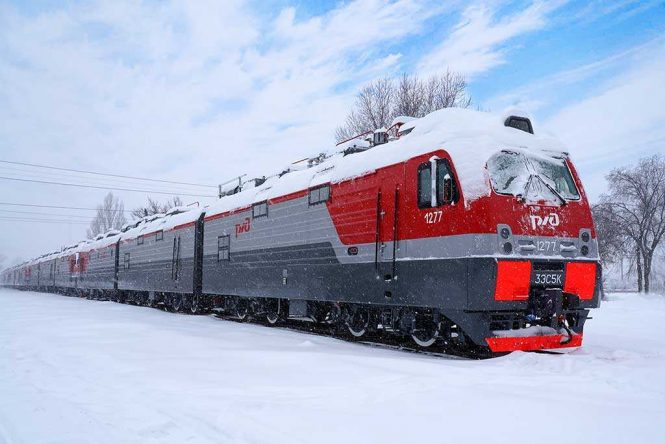 As of late December 2021, the number of Russian Railways' Class 3ES5K "Ermak" electric mainline freight locomotives, equipped with an autopilot system featuring Virtual Coupling, reached 630.
Since January 2021, each new Class 3ES5K carries an autopilot system. Throughout 12 months, TMH manufactured 136 such locomotives. Almost 500 more were equipped with these systems through respective service depots.
Virtual Coupling enables synchronized operation of two trains while maintaining a safe distance of 2 – 3 kilometres between them (typically it is 4 – 5 km) and controlling both trains from one locomotive. The machines use a digital radio channel for the exchange of service information. The system can operate without traffic signals. It allows to decrease the interval between the trains on a rail line by up to 2 times – from 10 to 5 minutes – and thus allow more traffic through a given time.
"Ermaks" feature a microprocessor control and diagnostics system. Compared to previous generations, these locomotives boast significantly better technical and economic characteristics. Their modular drivers' cabs comply with all modern sanitary, ergonomic, and safety norms while providing a comfortable working environment for the crews. Since late 2018, these locomotives feature a bi-axis traction control, which makes them capable of hauling 7100-ton freight trains over Russian Railways' Eastern site.
Class 3ES5K were designed for harsh climatic and landscape conditions of East-Siberian, Far-Eastern, and Baikal Railways. In addition to Russian Railways, such machines are operated by Uzbekistan Railways and NefteTransService private operator. Class 3ES5K "Ermak" mainline freight 3-section 12-axis AC locomotives are manufactured since 2006. As of 2021, a total number of these machines produced reached 1282. They also have a 2-section version (Class 2ES5K) and a 4-section version (Class 4ES5K), which also carry autopilot systems since 2021. One-section versions (Class E5K) are also available.