Minister Of Transport Presides Over The Signing Of The Alexandria Metro Infrastructure And Systems Contract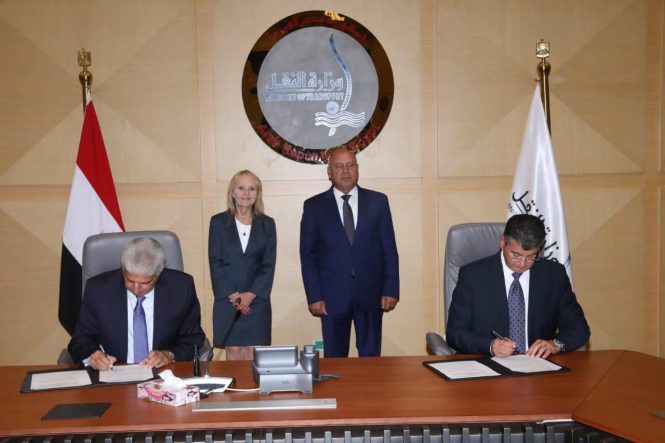 Lieutenant General Engineer Kamel Al-Wazir, Minister of Transport, presided over the signing of the contract for the Alexandria Metro infrastructure and systems works (Abu Qir – Misr Station). The contract was signed between the National Authority for Tunnels (NAT) and the "Orascom Construction – Colas Rail" consortium, led by Orascom Construction Company. Dr. Tarek Gouili, Chairman of the National Authority for Tunnels, represented NAT, while Mr. Majid Albert Abadir, CEO of the Consortium, represented the consortium.
Minister Al-Wazir noted that the development of the Abu Qir Metro line is part of the presidential focus on the Alexandria Governorate. It aligns with the Ministry of Transport's strategy to enhance railway lines in the Arab Republic of Egypt, especially in Alexandria, which is the country's second-largest governorate and a major tourist destination experiencing high congestion, particularly in the summer.
The Minister confirmed plans to transition the Abu Qir line to an electric metro spanning 43.2 km, to be developed in three phases. The inaugural phase will connect Abu Qir Station to Misr Station, covering 21.7 km. The track will be ground-level for 6.5 km, starting from Misr Station up to just before Al-Dhahriya station, after which it will elevate for 15.2 km up to Abu Qir station, encompassing 20 stations in total. The projected operational speed is 100 km/h. The line will interconnect with the Cairo–Alexandria railway at Misr station, the Raml tram at Sidi Gaber and Victoria stations, and the Rasheed railway at Al-Maamoura station. Future extensions are anticipated towards Burj Al Arab and New Abu Qir to seamlessly connect with the high-speed electric train networks in the Alexandria Governorate.
The Minister disclosed that the first phase has been divided into two separate contracts. The first concerns the civil, track, signalling, communications, control, ticketing, power, and various other works, set to be completed within 30 months by the Orascom-led consortium. The second pertains to the rolling stock, spare parts, and equipment for measuring and testing devices, which is under evaluation.
In conclusion, Minister Al-Wazir emphasized the developmental objectives: ensuring the line's safe operation, particularly after eliminating 14 crossings, mitigating traffic congestion in Alexandria, decreasing fuel consumption through clean electric power, and expanding the maximum passenger capacity from 2,850 passengers/hour/way to 60,000. This project also aims to cut travel time from 50 minutes to 25, increase the operational speed from 25 km/h to 100 km/h, and reduce headway times from 10 minutes to 2.5 minutes.