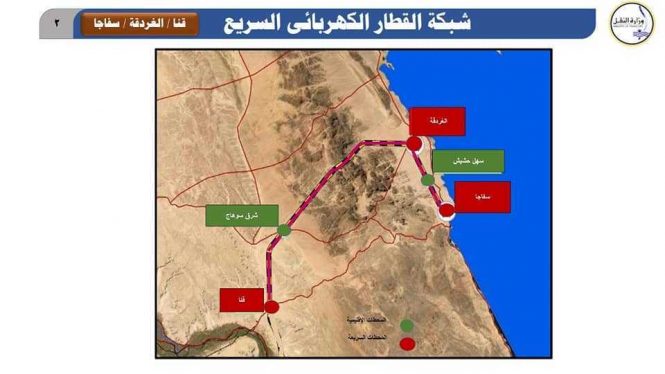 During a recent visit to the New Valley Governorate, Prime Minister Mostafa Madbouly and Engineer Kamel Al-Wazir, Minister of Transport, discussed the project to rehabilitate and raise efficiencies of the Qena/Abu Tartour railway.
This comes within the framework of the government's plan, represented by the Ministry of Transport; To rehabilitate and raise the efficiency of the line, after it stopped years ago due to the low productivity of the mine and the low volume of phosphate ore transported by the line, leaving the line vulnerable to theft.
The Minister of Transport confirmed that the technical and economic feasibility studies had been completed, which emphasized the importance of rehabilitating and restarting it to transport goods. Pointing out that it is expected that the operational capacity for transporting goods on the line will will begin at 2.6 million tons annually, and it will be increased to 6 million tons annually.
The Minister also indicated that it is planned to modify the route. In order to reduce the total length of the line and reduce the travel time, a plan has also been developed for the financing model for the project and the mechanism for establishing the company that will manage the project, allowing the participation of the private sector in the development, construction and operation of railways, especially in light of the amendment of the railway law, which allowed the National Railways Authority Steel Egypt in cooperation with the private sector in the management, operation and maintenance of railways.
Engineer Kamel Al-Wazir indicated that the Ministry of Transport is within the framework of finalizing the contracting procedures with Siemens to construct the Safaga / Hurghada / Qena / Luxor line - within the fast electric train network, and therefore the current line will be rehabilitated in the western part only in the distance between Abu Tartour / Qena , provided that an interchange station will be established between the current railway network and the Abu Tartour / Qena line with the rapid electric train network in the Qena region to serve the transportation of goods and passengers.