Zambia is searching for investors to help fund a series of planned greenfield rail projects to boost connections to existing lines in Southern Africa.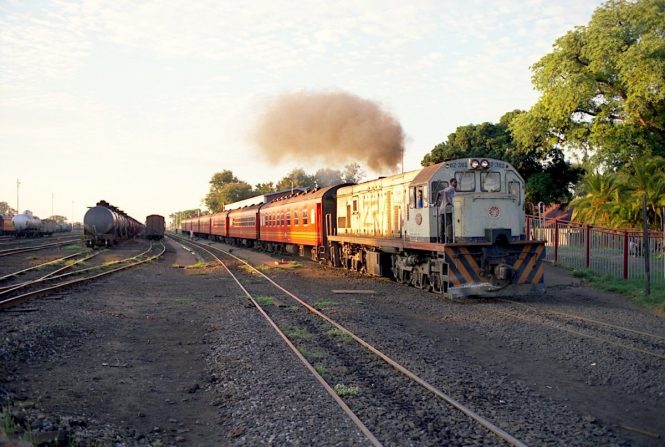 Speaking at the 2022 Southern African Railways Association (SARA) conference in Johannesburg, Zambian transport and logistics minister Frank Tayali said the government was working on a comprehensive infrastructure plan to integrate various modes of transport to reduce the pressure on the country's road network, help combat carbon emissions and boost the local economy.
"Taking advantage of Zambia's geographical position in the region, the Zambian government has developed a National Transport Infrastructure Master Plan which contains the comprehensive expansion of domestic rail networks that are designed to link into regional networks," Tayali told conference delegates.
The proposal would see increased and more efficient links between rail, road, air and water and make Zambia a regional transport hub to other SADC members, the minister said.
Making the dream reality, however, will depend on improving Zambia's rail infrastructure.
Along with building new lines to link to existing railways in Botswana, the Democratic Republic of Congo (DRC), Malawi and Tanzania, Zambia would also back the development of new standard gauge railways.
"If the region is to achieve the much-needed interoperability, we should begin to discuss and formulate regional policies that promote the shift from the Cape gauge to the electrified standard gauge system for the enormous benefits such as technology is able to bring to the region," he said.
Meanwhile, the country hoped to complete the long-planned 400km link between Mchinji and Chipata in eastern Zambia to the Central East African Railways (CEAR) railhead in Malawi, connecting the Tazara Railway to CEAR and ultimately offering access to the Mozambican deep water port of Nacala.
Other proposed lines are a 300km line from Kafue on the existing Zambia Railways (ZR) Livingstone-Lusaka line to connect with the National Railways of Zimbabwe (NRZ) at Lion's Den, and spurs from Livingstone via Kazungula to Sesheke in Namibia and from Nseluka to the port of Mpulungu on Lake Tanganyika.
A pre-feasibility study has been completed on the proposed Grootfontein-Rundu-Katima Mulilo line to which the Sesheke spur would connect, while the government has also called for expressions of interest on the other rail projects.
Investors were looking favourably at Zambia as its debt restructuring process continued. The country had also received a package from the International Monetary Fund (IMF) to assist with its balance of payments, Tayali told Railways Africa.
"These are all measures that have been put in place to try and open up the ability, the capacity, the potential for the country than to be able to spend on infrastructure," he said.
While potential investors for rail projects had been identified, the financing models would be crucial to ensure it is a win-win situation, he added.
Meanwhile, a statutory requirement that 30% of 22 bulk products needed to be transported by rail would remain in place.
This would help alleviate the pressure on Zambia's hard-pressed road network and also guarantee a certain volume of freight for rail operators.
The commodities included copper and copper concentrates, manganese, coal, nickel, cement, sulphur, fuel, fertilizer, sugar, maize, molasses, tobacco, wood and timber.
Getting more traffic on rail will be critical as Africa's freight volumes surge.
According to Economic Commission for Africa projections, the African Continental Free Trade Area (ACFTA) is expected to increase intra-African trade by nearly 50% by 2030 with volumes rising from 201 million tonnes per annum to 403 million tonnes.
The government was also busy overhauling the country's rates and tariff structure although Tayali noted that the disparities in regional economies would require the various railway administrations to be flexible when setting rates.
Zambia would also continue to play its part in reducing carbon emissions, the minister told Railways Africa.
"We have a president that has been quite a visionary in terms of looking at which direction the world is moving in terms of the zero target," he said.
An electrified standard gauge railway would ultimately reduce the region's reliance on diesel-electric locomotives whose carbon footprint was roughly 20kg per ton per kilometre, Tayali said.
Meanwhile, global demand for copper and cobalt was expected to increase as more countries adopted electric vehicles.
Zambia and DRC account for an estimated 70% of the world's deposits of copper and cobalt, both critical components in batteries.
To maximise this advantage, both countries had signed an MoU to set up a joint battery manufacturing process that could be situated in Zambia.
"This would allow us to supply batteries not only in the region but also, I guess, to the rest of the world," he said.
Reporting by Paul Ash