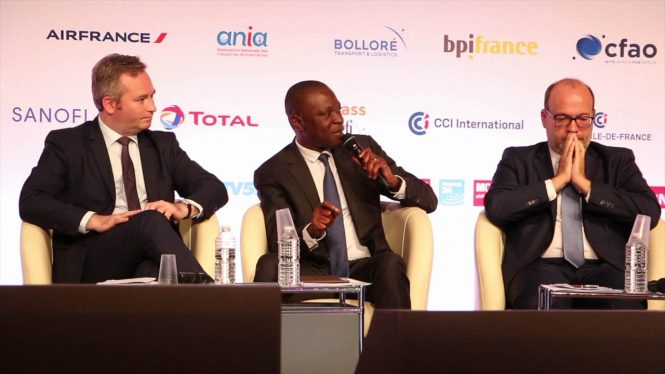 Organised by Business France under the auspices of the Ministry of Europe and Foreign Affairs and the Ministry of Economy and Finance, under the patronage of President Emmanuel Macron, the Ambition Africa 2018 Forum is the first edition of a meeting between African and French entrepreneurs that will be held annually. More than 700 French and African participants from all regions of the continent met on the occasion of thematic and sectoral round tables and a thousand business-to-business meetings.
The Minister of Transport, Amadou Koné shared the experience of Côte d'Ivoire on urban mobility. Amadou Koné seized the opportunity to present the Ivorian potential to an audience of potential investors. The Minister of Transport had with him Sambiou Wague, Minister of Energy and Water of Mali, as well as Christophe Lecourtier, Director General of Business France and Remy Rioux, Director General of the French Agency of development.
Topics discussed during these two days were devoted to economic links between Africa and France and included;
Business environment, SME financing, urban mobility, access to health, new uses of technology, vocational training, role of the African diaspora.
The dedicated meetings allowed companies to discuss concrete projects, and forge lasting partnerships.