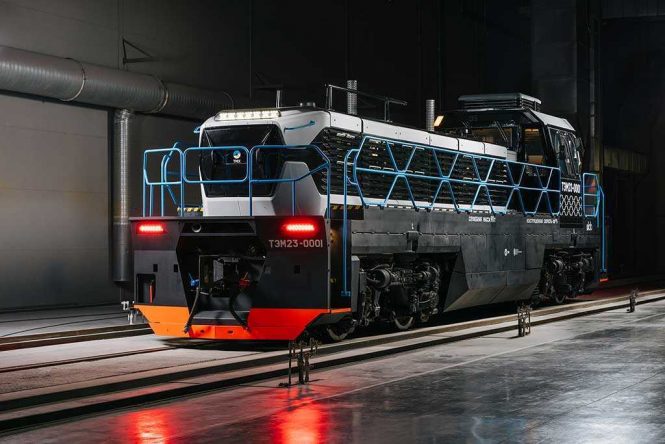 TMH has won the Good Design international industrial and graphic design award in Transportation category for the second year running. The prize was awarded to the concept design of Class TEM23 four-axle twin-engine diesel shunting locomotive.
Since the time the application was submitted for the award, Class TEM23 concept has turned into a real product – TMH's first Brand DNA-based locomotive. TMH's Brand DNA concept itself won a Good Design award in 2020.
Class TEM23 was developed in partnership with 2050.LAB National Center for Industrial Design and Innovations. This powerful, cost-efficient, and smart vehicle introduces the new generation of TMH's shunting locomotive unified platform.
Eugene Maslov, TMH Chief Designer: "First of all, TEM23 is about the aesthetic of functionality. The modular design and platform-based solutions make it possible for TEM23 to be transformed to fit many usage scenarios. We strive to anticipate the needs of the customers and maintain with them a transparent and efficient working environment. This is fundamental for our Brand DNA, which is why we reiterate it through the language of design in quality, forethought, and attention to details, which are anything but accidental. This is the new face of the Russian engineering, and personally I like this face for its openness and confidence."
Good Design, a prestigious global industrial and graphic design awards program, was founded in 1950. The program is organized by The Chicago Athenaeum: Museum of Architecture and Design and the European Centre for Architecture, Art, Design and Urban Studies.
This year, the Museum received a record number of submissions from the world's leading manufacturers and industrial and graphic design firms representing important and critical mass of influential corporations in the design industry from over 55 countries. Class TEM23 concept was rated among the best in the Transportation category, other prize winners of which include Ferrari, Hyundai, and Mitsubishi.
Class TEM23 is one of the most advanced shunting locomotives to day. Its modular design simplifies its maintenance and decreases its potential downtime. It can operate with two power modules or just one, which increases fuel economy in low traffic scenarios. Class TEM23 can be equipped with an autopilot and enabled for remote operation. With its asynchronous traction and maintenance-free equipment, it requires service procedures up to 2,4 less in comparison to other shunting locomotives.