The Eswatini Rail Link (ESRL) Project is a joint inter-railway strategic initiative between Transnet (TFR) and Eswatini Railways (ESR) aimed at creating a dedicated General Freight Business (GFB) corridor for Transnet whilst providing much needed additional capacity for Eswatini Railways. The project entails the construction of a 150km long new railway link between Lothair in South Africa and Sidvokodvo in Eswatini, including the upgrading of existing lines, one being the line from Ermelo to Lothair and the other being the line from Sidvokodvo in Eswatini to the logistics hub of Richards Bay, in South Africa.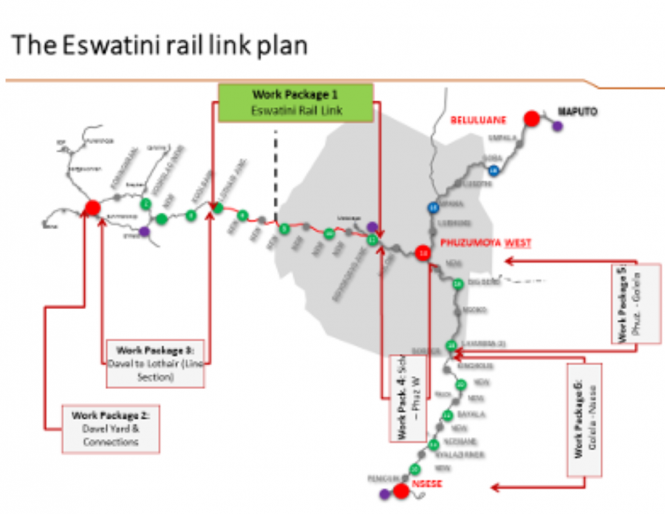 The Eswatini Rail Link project will create jobs and business opportunities. It is anticipated that approximately 3,400 construction-related jobs will be created in South Africa and 2,700 in Eswatini. Long-term employment arising from train operations and maintenance extends to an estimated 500 jobs in South Africa and 300 in Eswatini. The project will also help develop the skills of the people in the project and surrounding areas. Other benefits include that the project will be a catalyst for economic development, improve regional integration and promote intra African trade.
ESRL is a great project for Eswatini's economy as it will promote cash inflows during construction phase could develop many aspects of the economy, many products and services required will be sourced from Eswatini, subcontracting and employment opportunities. During the operation of the line, Eswatini Rail is expecting increased traffic and volumes, which will result in increased revenue.
Eswatini Rail Link Progress to Date
One of the major ongoing activities is acquiring the land needed for the new rail link to be constructed.
On the Eswatini side, progress achieved includes the acquisition of seven of eight land parcels on title deed land and the relocation of some 506 graves on Eswatini Nation Land. The planning for the resettlement of the 235 Project Affected Households is at an advanced stage with the following activities either ongoing or due to commence;
Assets to be compensated have been agreed and signed for by at least 90% of Project Affected people (PAPs)
Replacement or alternate resettlement sites have been secured for about 40% of the Project Affected people
Draft plans for replacement houses have been prepared for consultation with Project Affected People
Plans for the provision of basic infrastructure (water, roads, electricity etc.) to resettled people are at advanced stage with talks initiated and ongoing with utility companies
A list of draft or proposed CSI projects has been prepared for consultation with affected communities
Resettlement Task Teams, to facilitate meaningful consultation with PAPs and smooth resettlement process have been established
Lines or channels of communication have been established with community leadership, Regional Administrator, Government and other key stakeholders and regular consultations are held
On the South African side progress achieved is summarised below; more details can be obtained from Transnet if required.
Approximately 100 graves have been exhumed and relocated
A socio-economic assessment study of existing skills in the Mpumalanga Region is complete
The purchase of some 506 hectares of land required for project purposes is at an advanced stage
Plans to resettle affected households are also at an advanced stage
Continuous engagements are being held with all stakeholders
Construction Phase Of The New Rail Link
The new link is currently being prepared for bankability and is anticipated to commence soon after resettlement is completed, and funding is secured. The two railways are working on a financing model for the project. Many potential funders have shown appetite to fund the project.