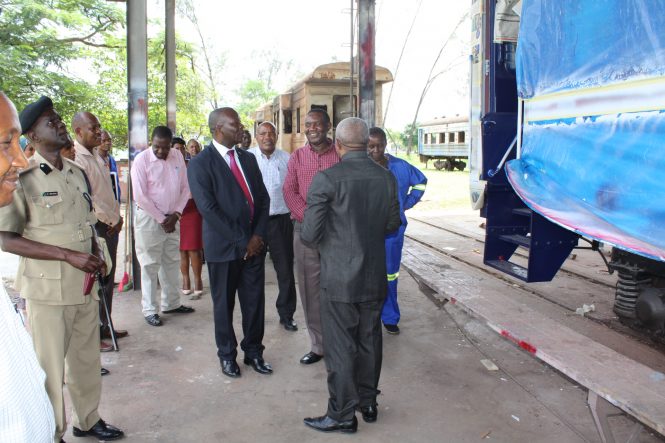 The new Zambia High Commissioner to Tanzania, His Excellency Mr Benson Keith Chali on 11 April 2017 toured the facilities of TAZARA in Dar es Salaam and commended management for the efforts they were making to move the company forward despite facing some huge challenges.
"I am happy to note that despite several challenges here and there, your team seems to have turned things around and are beginning to improve operations, taking the company to higher levels of performance from where it was two years ago," the High Commissioner said.
Addressing workers at the regional offices in Dar es Salaam during his tour, Mr. Chali assured the workers that he was confident that the two governments of Tanzania and Zambia would do all they could to find long-lasting solutions to the challenges of TAZARA because both Presidents, His Excellency Joseph Pombe Magufuli of Tanzania and His Excellency Edgar Chagwa Lungu of Zambia were fully committed and determined to ensure that TAZARA received the necessary attention and begin to operate as it should.
"I have been assured by the two Presidents and I am also assuring you, that the two Governments are fully committed and determined to provide the necessary support to make this company viable once again.
I came here to encourage you and let you know that TAZARA has a great future because its value is beyond monetary considerations," said the High Commissioner, who once worked for TAZARA.
Mr Chali challenged the employees of TAZARA to change their mindsets, work harder and wean the company from Government subventions.
In his report to the High Commissioner, the managing director, Eng. Bruno Ching'andu said that with the support of the shareholding Governments, the Authority had registered very positive improvements in operations in the last two years, to the extent that a lot of customers that had abandoned the services of TAZARA had returned.
Eng. Ching'andu said that as such, the renewed interest and demand for TAZARA services was overwhelming, considering the limited capacity that the Authority was currently facing due to inadequate rolling stock.
And welcoming the High Commissioner to the Dar es Salaam Railway Station, the Regional General Manager for the Tanzania Region of TAZARA, Mr Fuad Abdallah likened the situation of the limited capacity of TAZARA to a beautiful hotel with 100 rooms but only four beds available for guests.