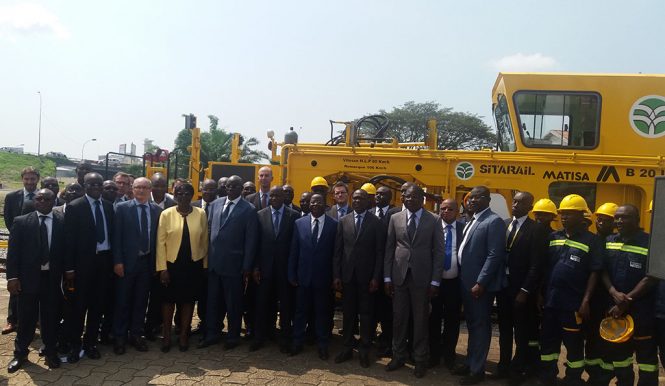 SITARAIL, a Bolloré Transport & Logistics subsidiary, is pleased to announce the official launch of work to upgrade the railroad network linking Abidjan in Côte d'Ivoire with Ouagadougou in Burkina Faso.
SITARAIL will spend a total of 260 billion CFA francs including 85 billion in the first phase running up until 2021 and covering the railroad renovation, plus 70 billion to acquire and modernise locomotives, cars and other equipment. Through this project the company is pursuing its efforts to substantially increase the merchandise and passenger transport capacities and to reduce routing delays between the two countries.
The work involves rail replacement, upgrades of safety systems and renovation of stations, bridges, and maintenance workshops. Additionally, the rolling stock will be renewed and expanded. Once the work is completed, it will be possible to transport over 5 million tonnes of merchandise and 800,000 passengers annually. This ambitious project marks a new phase in SITARAIL's development. The company will leverage its expertise and knowledge of the local environment to provide modern, reliable, high-performance rail services.
This project fits into Bolloré Transport & Logistics' strategy of multimodal investment and transformation of the logistics chain all the way from the port terminal to the final destination. Thanks to the professional commitment of our 1,500 railway workers and our 250 partners and subcontractors both in Côte d'Ivoire and Burkina Faso, SITARAIL is demonstrating its social responsibility. It helps to modernize the strategic infrastructures on which the region's economic development depends.
KEY FIGURES OF THE SITARAIL MODERNISATION PROGRAMME
853 km of railway tracks to be replaced
51 protected level crossings
31 railway stations and 50 civil engineering works renovated