SVI's traditional scope of work over the last few years has been centered on the ballistic protection of vehicles, essentially the armouring of vehicles from luxury, security through to military. More recently, SVI has moved into the space of armouring rolling stock.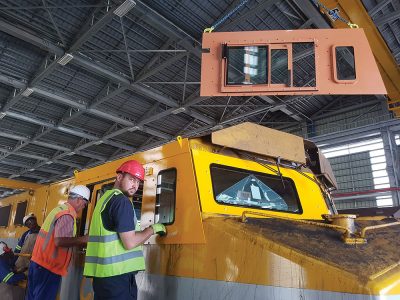 SVI Engineering is currently manufacturing and fitting armour protection to over 100 Mozambican locomotives for Vale Mocambique, following a spate of armed attacks against their locomotives. At the time these attacks were on the Sena line, this was then followed by attacks on Nacala line. At one point, the attacks on the Sena line were so bad, that the route was temporarily suspended. Over half a dozen attacks on trains were recorded in 2016 alone.
In 2016 Vale issued a tender for the armouring of rolling stock. SVI Engineering bid for the tender and were awarded the contract at the beginning of 2017, to protect 110 locomotives for Vale (the Brazilian mining and logistics company), CLN (Corredor Logístico Integrado do Norteand) and CDN (Corredor de Desenvolvimento do Norte). The locomotives are owned by VALE and operated by CLN. They comprise the GE BB-40-9WM units.
CLN is the rail and port concession-holder for the Nacala Corridor, the main route for transporting coal from the Moatize coal basin, in Tete. The company is owned by Vale and Japanese Trader Mitsui as the main shareholders, and also by the Mozambican state port and rail company Portos e Caminhos de Ferro de Moçambique (CFM).
Along the Corridor, there are other concessioners, namely CDN (Corredor de Desenvolvimeno do Norte), for general cargo and passengers, in Mozambique, and VLL (Vale Logistics Limited) and CEAR (Central East Africa Railway Company Limited).
The fitment of armour plating and armoured glass to the locomotives began several months ago, and is due to be completed by the third quarter of 2017 – most of the SVI-designed armour kits have already been installed. They are fitted on site and in a single shift in order to minimise disruptions to operations.

The kits are designed in such a way that the locomotive appears as standard as possible from both the inside and out, including opening windows. The glass is supplied by American Glass Products (AGP) and incorporates all the features of the standard glass, including heating elements. The primary focus was on armouring the driver's compartment, but there is scope for other parts of the locomotives to be protected.
SVI Engineering is considered the only company in Africa that is armouring trains to this degree. The significant increase in attacks involving locomotives and general hot spot conflict areas, SVI believes that there is a market for the armouring of rolling stock for both operators and customers moving commodities between major centres in Africa.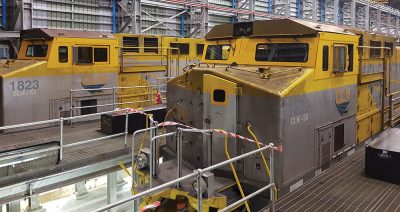 SVI specialises in mechanical engineering, product development and manufacturing of protected vehicles with an emphasis on making vehicles for niche markets. The company has produced armoured civilian vehicles, armoured luxury vehicles, remanufactured military and police vehicles, cash in transit vehicles, water cannons, gun ports, guard houses and towers. The company has designed and qualified over ten vehicle models. This year the company completed its ISO audit and is now certified to the latest ISO 9001:2015 standards.
Offering innovative mechanical engineering and rapid-product development firm with capabilities in product design, finite element analysis, development, product evaluation and manufacturing. SVI Engineering provides full, life cycle engineering design service from initial concept to detail design, prototyping and manufacture implementation in the shortest period by controlling costs, reducing risk and speeding up the time to market. Utilising special computer-aided design software such as PTC Creo, Creo Elements, BuildIt, and Autodesk 3ds Max Design, their concurrent design approach will ensure a fit-for-purpose and cost-effective solution is adopted at every stage of a project.
Advanced technology, including Faro Coordinate Measurement Machines and in-house plasma cutting, ensures fast, high-quality results. All design documentation is produced in accordance with military industry standards and incorporates client- specific requirements. SVI is certified to ISO9001:2008 by TÜV Rheinland.