Client: Ministry of Works and Transport Namibia
Consulting Engineers and Site Supervision: Bigen Kuumba Infrastructure Services (Pty) Ltd, Namibia
Henk Bester, Project Director, Bigen Africa Services
The project forms part of the Namibia Transport Infrastructure Improvement Project (NTIIP) co-financed by the African Development Bank, focusing on the priority interventions in the rail transport sub-sector for the Upgrading of the Walvis Bay to Kranzberg railway section.
The project is part of the priority projects as identified in the Government of the Republic of Namibia (GRN)'s Harambee Prosperity Plan (HPP), an action plan launched in April 2016 to accelerate the delivery of the targets under NDP4. The NDP4 priorities have been retained in the current and successor NDP5.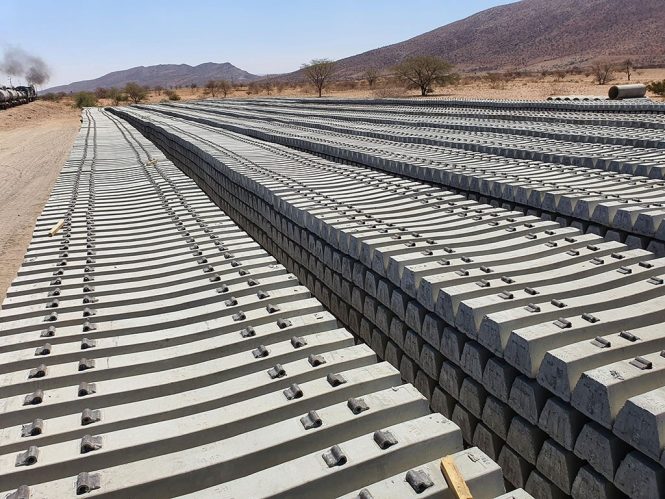 The Walvis Bay-Kranzberg railway section, of Cape Gauge 1,067mm, is presently constrained due to its structural condition. This has resulted in speed restrictions imposed on critical sections and in addition, a constraint considering the relative low axle loading of 16.5 tons per axle loading (tal).
The project will contribute to improving the capacity of the line to 18.5 tal, and maximum train speeds of 80km/hr (freight) and 100km/hr (passengers). Identified crossing loops will also be lengthened to accommodate a "block" train service, especially considering the medium to long term outlook of bulk commodities originating from the hinterland and destined for Walvis Bay and Luderitz Ports.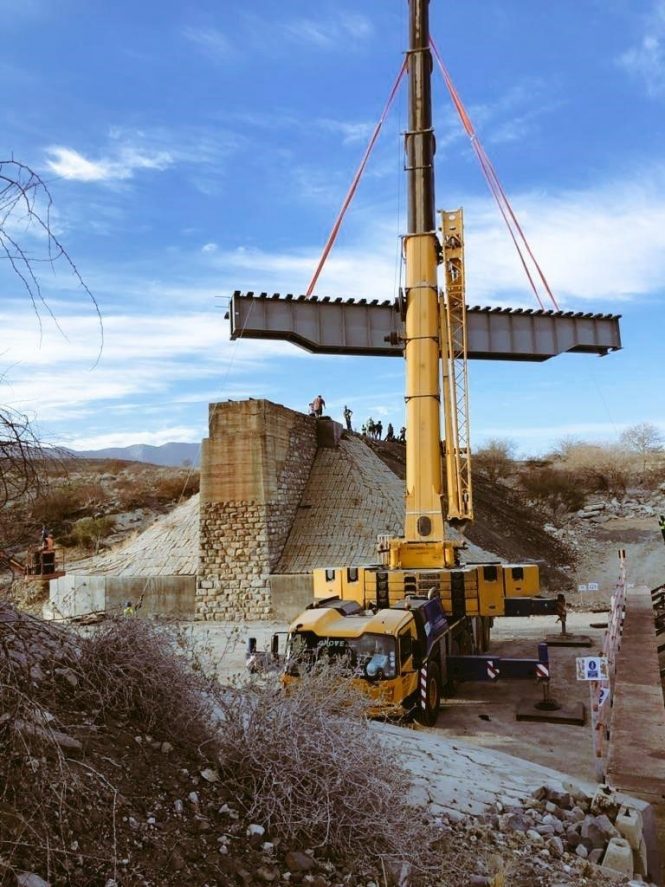 Currently only about 48% of the total rail network (2,630km) meets the SADC "requirements", with a medium term target to upgrade 70% of the network in line with the long term "Vision 2030", which aims to make Namibia a transport and logistics hub.
The existing Walvis Bay rail corridor is a single line that runs from Windhoek to Tsumeb through Kranzberg Station to the Walvis Bay rail yard in Walvis Bay. This line, depicted below, is part of the general freight network that carries a combination of bulk minerals, break- bulk products, containers and long-distance passengers.
The rail line can be divided into four main sections (each section with unique characteristics), namely Walvis Bay- Swakopmund, Swakopmund to Arandis, Arandis to Usakos and Usakos to Kranzberg.
Considering the remoteness of the site and linear distance, it was decided to split the workload into two major packages, and issued such to the international market for competitive tendering.

The two major packages were awarded to China Gezhouba Group Company Ltd, for the section Walvis Bay to Arandis and Qingjian Group Co Ltd -Unik Joint Venture for the section Arandis to Kranzberg. Each section comprise approx. 110km with the scope of works including rails, sleepers, ballast and turnout replacement, formation strengthening and widening at identified areas as well as bridge replacement/refurbishment including smaller culverts.
These main contractors appointed D&M Rail Construction Namibia and Lennings Rail from South Africa as platelaying contractors on the respective sections. Rails and turnouts were supplied under a separate contract and free issued to Contractors.
Although work would have commenced early in 2020, the outbreak of Covid and related lockdowns prevented teams from establishing in Namibia, but both companies and projects have commenced and are advancing at a rapid pace to meet contractual deadlines during 2022.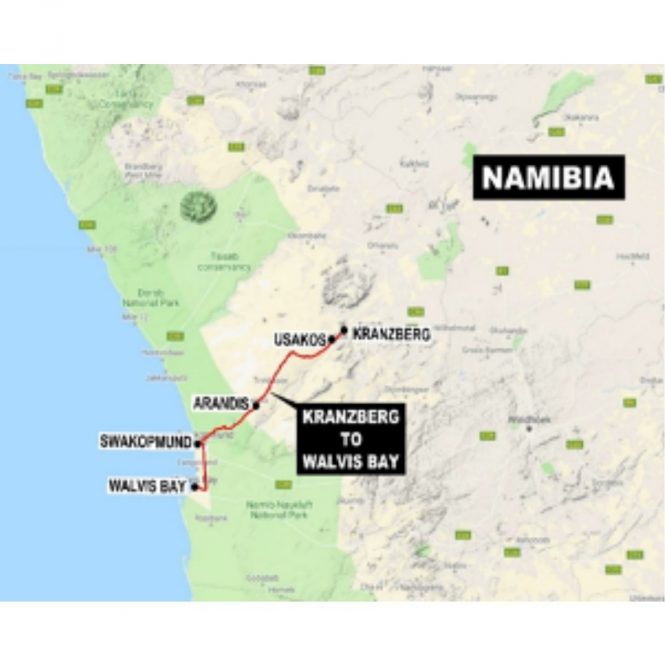 All work is done during full operational conditions of the line and only major shutdown work scheduled longer than one day. This arrangement requires careful planning and communication between the construction teams and TransNamib's Operational Control to ensure minimum delays and interruption of normal train schedules.
Says Hanli Bothma, Project Manager from Bigen Kuumba, "Each day is run and managed like a total shutdown with hourly feedback and contingency plans in place to revert to alternatives in case of time over runs".
Once the project is completed, train running times would have improved by an average of 25% with of course the added advantage of predictability and reliability. This on top of the axle loading increase and thus weight to tare ratios, combined with the introduction of longer and heavier trains, will ensure an environment for rail rightly positioned to win its share of the freight market.
According to Robert Kalomho, Director Railway Infrastructure Management, Ministry of Works & Transport, Namibia is well on track and rightly positioned to take advantage of the various logistic corridors opening up between Walvis Bay and Luderitz Ports and the hinterland of Africa!