Anglo American has published its 2017 Transformation Performance Report detailing the company's ongoing commitment to creating a more inclusive and equitable South Africa.
Andile Sangqu, Executive Head of Anglo American South Africa, said: "For us, transformation is about building a country where all South Africans have the opportunity to achieve their potential, not only for themselves, but for successive generations too. We are proud of our longstanding commitment to, and track record of, advancing sustainable transformation in South Africa."
Since 2011, Anglo American has set out its progress in making transformation a business imperative in its annual Transformation Performance Report. The report provides insight into Anglo American's progress in areas such as mine community development, ownership, employment equity, human resource development, housing and living conditions and beneficiation in South Africa over the past five years.
A cornerstone of the company's commitment to transformation in South Africa is its focus on building thriving mining communities—one of the three key pillars of the company's ambitious Sustainability Strategy launched in February this year.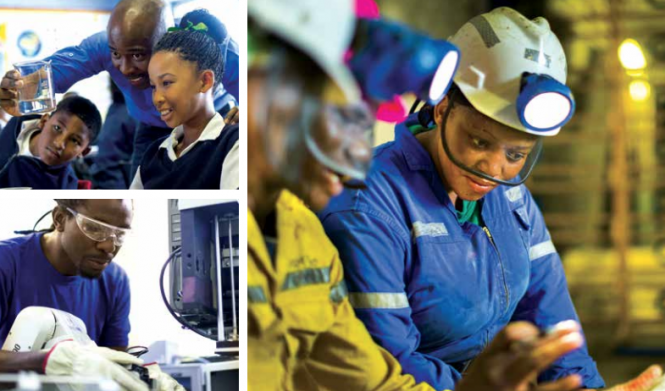 Anglo American operates in many areas of South Africa that are underdeveloped and remote and is taking a collaborative approach to regional economic development to create enduring benefits.
Developing and supporting critical infrastructure, such as roads, health facilities, and clean water, helps to improve the lives of the people living in these communities. Over the past five years, Anglo American, through its South African business units, has invested R3.15 billion in developing mine communities.
"Our Purpose, which is to re-imagine mining to improve people's lives, takes on a special meaning for transformation in South Africa. We will continue to build on the progress we've made by working hard to ensure that the people in our host communities are able to access better healthcare, education and job opportunities. Ultimately, we know that it is people's lived experiences of transformation that matters," added Sangqu.
Anglo American's 2017 Transformation Performance Report highlights progress in several areas, including:
Diversifying ownership
Since 1994, Anglo American has carried out more than 40 empowerment transactions, valued at more than R71 billion. Through the sale of some of our assets, we have created some of the most significant empowerment companies in the country—adding diversity and strength to the mining industry.
This year, we are particularly proud of the conclusion of the R 2.3 billion sale of our Eskom-tied mines that gave birth to Seriti Resources, a 91% black-owned company that generates 23% of South Africa's electricity.
Making a meaningful contribution in mine communities
Over the last five years, our business units in South Africa have invested R3.15 billion in initiatives to improve mine communities. The launch of the Anglo American South Africa Education Programme in 2018 is a singular highlight.
The programme, designed in partnership with the Department of Basic Education, aims to improve the educational outcomes of learners in 100 early childhood development sites and 100 primary and secondary schools local to our mining operations in South Africa over the next five years.
Building small and medium enterprises through procurement and supplier development
We continue to support small and medium enterprises, recognising the role they play in facilitating job creation, adding diversity to our supply chain and contributing to local and regional economies. In 2017, we spent R9.3 billion with local suppliers. As at the end of 2017, Anglo American Zimele, our pioneering enterprise development initiative, had funded 2,411 SMMEs and sustained 55,000 jobs since 1989.
Building a skilled workforce
By investing in our people, we are building a workforce that is confident and encouraged to grow their career paths with us. Training our employees is how we make sure we can meet our business objectives – now and in the future.
Over the last five years, we have spent over R8.3 billion on education, training and skills development.
Building a diverse workforce
As one of South Africa's largest employers, we are proud of our track record in building a diverse workforce. From the mine pit to the boardroom, the people in our business reflect the rich diversity of South Africa: young, old, men and women from different backgrounds.
By the end of 2017, 67% of our management comprised of historically disadvantaged South Africans.
Creating safe and stable living conditions for our people
We want our employees and their families to enjoy quality living conditions, and we assist by providing various housing options. Our focus is on making it possible for employees to buy their own homes in areas near our mines. Since 2010, we have built 4,944 houses valued at R1.7 billion.
Advancing beneficiation
We see beneficiation as a driver for empowerment and an enabler of the development of new entrepreneurs in downstream and side stream industries. De Beers, our diamond business, is providing support to black- and women-owned entrepreneurs through a beneficiation programme geared to equip participants with training for rough diamond purchasing, cutting, marketing and distribution (of polished diamonds). Participants in the programme recorded an average 96% increase in turnover (of their beneficiation businesses) and a 53% increase in employment.