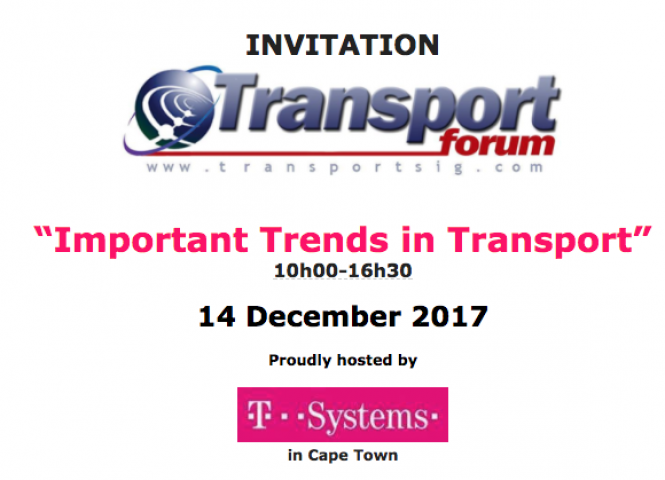 Date: Thursday 14 December 2017
Time 10h00-16h10
Venue:
Auditorium,
T-Systems South Africa (Pty)Ltd
Avanti Towers, North Block, 4 Churchill Close,
Waterfront, Tygerfalls
Click here for map and directions

GPS coordinates: Latitude: 33.87402 Longitude: 18.63208
Cost: Attendance is for free but booking is essential

(Please book promptly to avoid disappointment)

Click here to make your booking
Agenda

10:00 – 11:00

Registration and networking

11:00 – 11:10

Admin

Mr Harry van Huyssteen Custodian Transport Forum

11:10– 11:20

Welcome

Mr Mike Buttner Acting VP: Sales & Service Management South T-Systems South Africa (Pty)Ltd

11:20 – 11:45

Non-Motorized Transport Integration into Urban Transport Planning in Africa

Prof Marianne Vanderschuren Senior LecturerUniversity of Cape Town

11:45 – 12:10

The Road Freight Strategy

Ms Anita Buda Assistant Director: Logistics Infrastructure (Freight) Department of Transport

12:10 – 13:10

Lunch and networking

13:10 – 13:35

T-Systems presentation to be confirmed

TBC

13:35 – 14:00

Challenges for Rail in the Western Cape

Mr Eddie Chinnappen GM: Office of the GCEOPassenger Rail Agency of South Africa (PRASA)

14:00 – 14:25

The Mobility Centre for Africa – roles of government, academia and industry

Mr Victor Radebe Programme Manager Durban Aerotropolis Management Unit

14:45 – 15:10

Assignment of Urban Rail to City of Cape Town

Mr Gershwin Fortune Portfolio Manager: Integrated Transport City of Cape Town

15:10 – 15:35

Determining the supply and demand for Public Transport and the Implications

Mr Neil Frost Chief Executive Officer iSAHA International

15:35 – 16:00

Panel Discussion

16:00 – 16:10

Closure and Lucky Draw (Winner must be present)
Cancellation Policy:

Please take note that a penalty fee of R570 (Including VAT) will be charged, should you book and do not attend without cancellation at least 24-hours prior to the event. Substitution is acceptable. Cancellations should be done by email to: harryvh@transportsig.com or fax at: 086 530 6431.
How to become a sponsor and get great exposure:
Download the Transport Forum Sponsorship Agreement from "Sponsorship Documentation" available under "Downloads" on the Transport Forum's website: http://www.transportsig.com
Transport SIG Background:

The state-owned arivia.kom established a Transport Forum in 2005 with the main goal of enhancing the transport process in South Africa. This necessitated the establishment of a Transport Special Interest Group within the organisation to address challenges with participants who are passionate about the transport sector. At the end of 2009, arivia.kom was acquired by T-Systems SA (Pty)Ltd who now acts as the Platinum Sponsor of the Transport Forum.