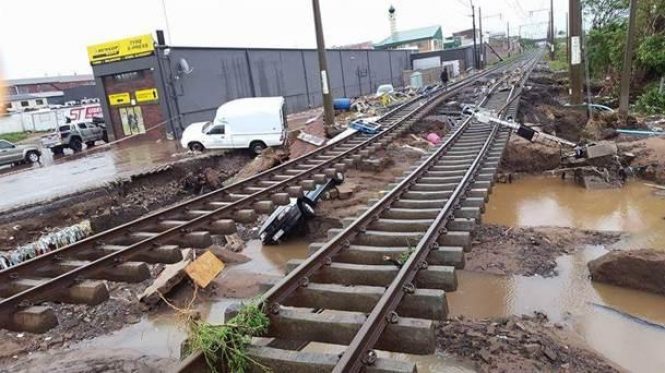 Following the urgent notice issued by the Passenger Rail Agency of South Africa (PRASA) yesterday, Metrorail KwaZulu-Natal services were to be suspended, due to severe weather conditions.
Preliminary reports after the storm, indicate that the KwaZulu-Natal Metrorail services will remain suspended, as the full extent of the damage to its infrastructure is assessed and mop up operations being.
So far, the Metrorail technical team has reported that a total of 17 train sets are stuck outside operational depots either outside the stations, on the platforms or in-between sections. The trains have no power or rail tracks to move them. In addition, station roofs, fences, tracks, electrical substations and signalling have been badly affected. In some instances, the ground and steel securing rail tracks has been washed away.
PRASA, has, as part of its Modernisation Programme, already started with the signalling upgrades and was in the final stages of completing the Pinetown to Durban section which would see 24 km of new rail signalling handed over to Metrorail KwaZulu–Natal to operate by December. Following the storm, all this work will have to be re-done along with other extensive repair works anticipated.
In the meantime, Metrorail KwaZulu-Natal remains unable to operate its trains without electricity as well as huge safety concerns as some affected areas have live electrical wires and unstable ground barely holding the rail tracks.