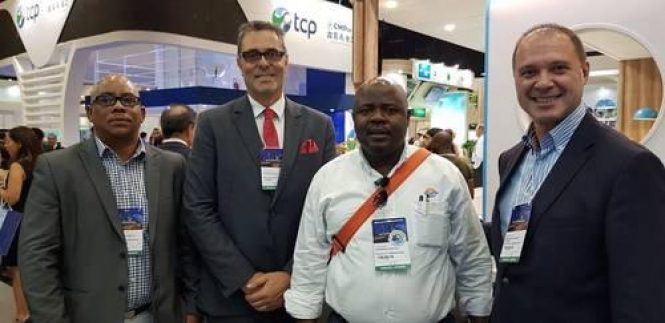 The Brazilian market provides immense opportunities as a trading partner with SADC and the potential exists to utilize Namibia as a hub for a myriad of products. Through regular visits and exhibition at the Intermodal South America, the WBCG has created awareness of the Port and the Walvis Bay corridors.
The recent visit to Brazil, gave the WBCG and Namport the opportunity to engage with various stakeholders to further explore opportunities for cargo volumes through Walvis Bay. Meetings were held in different regions to attract interest from Brazilian companies to establish offices, plants and distribution centres in Namibia in order to reach the SADC Market.
These meetings culminated in the potential development of Memorandums of Understandings (MoU's) between the WBCG and Brazilian institutions, which will allow for a combined approach to explore the opportunities available between the two markets and for developing the prospect of having a direct call to Walvis Bay. Further interest was expressed in the new container terminal opportunities as well as hinterland connections and potential investment in inland dry ports and depots.
The Namibia Logistics Hub Concept provided further collaboration opportunities on various aspects such as successfully establishing and managing Free Trade Zones, promoting efficiencies in the logistics sector, trade missions and capacity building opportunities for the Namibian Logistics Sector.
The developments on this trip has revealed the potential for cooperation with Brazilian companies to explore business and trade between South American and Southern African countries. The Namibia Logistics Hub Project, development at the Port of Walvis Bay and overall opportunities in Namibia as a potential distribution hub into Sub Saharan Africa has caught the attention of Brazilian business. The WBCG endeavours to remain steadfast in its search for opportunities between Brazil and Namibia into the Region, in order to ensure the accelerated development of our Logistics sector.